LSP Kit Database - Kit Details
Hasegawa Focke-Wulf Fw 190D-9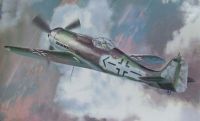 Entry
398
Kit Number
08143
Kit Family
Hasegawa Fw 190D - New Tool
Medium
Injection
Scale
1/32
Status
Out of Production
Year
2003
Notes
"Rudel" - Limited release of new tool kit ST19. Blown canopy, standard tail parts and "Q" sprue with small bombs (from Fw 190F-8 kit 08151). Standard flat canopy parts deleted.
Markings
1. Oberst Hans-Ulrich Rudel, Stab/SG2, Apr 1945; Fw 190D-9/R5, SC50 x 4, Austria, May 1945.
2. Second option without W.Nr or tactical marking, noted as "Unit Unknown".
This record was added to the database on Monday, January 11 2010
This record was last modified on Wednesday, April 16 2014