Tamiya 1/32 F-16C Viper 77th FS OP Iraqi Freedom
By Andy John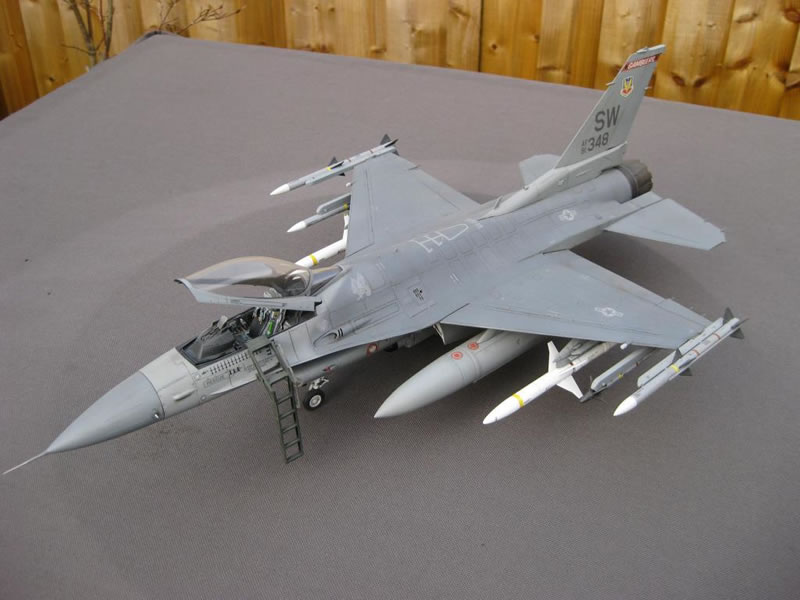 Tamiya's sublime F-16C Block 50 Viper. I used to stock decals as supplied in the kit, and chose an aircraft from the 77th Fighter Squadron, 20th Fighter Wing based at Prince Sultan Airbase, Saudi Arabia during Operation Iraqi Freedom.
Aires provided the cockpit and undercarriage bays, which, if I recall fitted fine. It's well documented that this kit has components to model the Pratt and Whitney F100 engine, however I decided to leave that out, but those who have built this kit will know that its an excellent opportunity to super detail the engine.
Lead wire supplemented the undercarriage bays to represent hydraulic pipes, but the Aires undercarriage bay is a work of art in itself to be honest.
Flightpath provided the AN/ALQ-131 pod as this isn't supplied in the kit and was carried by Vipers during OEF sorties. Eduard provided the crew ladder.
I deviated from my normal choice of Gunze Acrylics and used Xtracrylix paint, no problems there - nice colour match and texture. Alclad took care of the exhaust colours.
For references, I used Osprey's F-16 Fighting Falcon Units of Operation Iraqi Freedom and Jake Melampy's The Modern Viper Guide - The F-16C/D Exposed. The latter is about the best F-16 reference around in my opinion. If you're planning on building an F-16, whatever the scale, you need to get this book.
---
© Andy John 2013
This article was published on Monday, February 04 2013; Last modified on Tuesday, April 12 2016