A6M2-N Rufe (Tamiya Conversion)
By Rick Kranias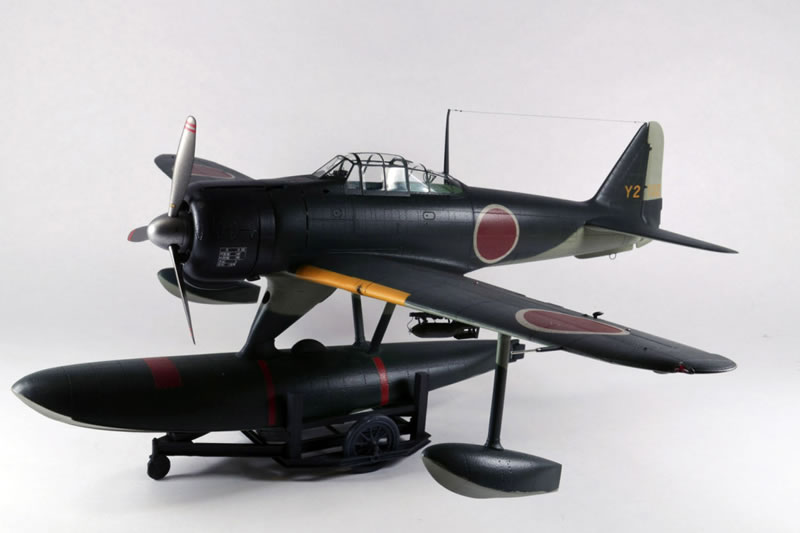 MODEL DETAILS
1:32 Tamiya A6M2b Zero conversion to A6M2-N Rufe.
REPRESENTS
A6M2-N Rufe Y2-102
452nd Air Fleet
Aquatic Airbase Shumushu, North Kuril Nov 1942 – January 1945*
*Assigned to Seaplane Tender – Kamikawa Maru, Feb 1943 – May 1943
Y2-102 served as an interceptor for defending fuel depots at the Shumushu Island base North Kurile and served aboard seaplane carrier Kamikawa Manu.
THIS BUILD IS A SERIES OF FIRSTS
First complete build from box in over 30 years, officially returning to my childhood hobby
First using resin
First using Photo Etch
First using Masks
First using Double Action Airbrush
First using Acrylic Paints
INSPIRATION
At age 17 I took a 1:72 scale A6M Zero and attached floats from a OS2U Kingfisher. Vac-u-formed canopy and applied thinned wash weathering techniques for the first time. This model was my pride and joy.
I took advantage of this opportunity to do a conversion with Tamiya's epic 1:32 A6M2b. In the end it was truly an enjoyable build with plenty of drama and angst.
AFTERMARKET
MDC CV32039 A6M2-N Rufe Conversion
Eduard Big Ed 3251: Engine, Landing Flaps, Interior and Canopy Mask.
Air Master AM-32/006 A6M5 Type 97 7.7mm MG.
CMK 5003 A6M5 Armament Set 60kg bombs, PE Stabilizers and Fuse Spinners.
Maketar Masks Imperial Japanese Hinomaru Roundels mask set and Custom mask for tail number
GENERAL PAINT DATA
Upper Tamiya XF-11 JN Green
Lower Tamiya XF-12 JN Grey
Interior Tamiya XF – 71 Cockpit Green
Engine Alclad Magnesium, Burnt Iron, Exhaust Manifold, MIG pigments
Propeller Alclad Airframe Aluminum, Exhaust Manifold 24 parts + Copper 6 parts, Dark Aluminum, Dura Aluminum
Cowling Frames, Inside Cowling, Inside Landing Flaps Blue Aotake: Tamiya Clear Smoke 11 parts + Clear Blue 10 parts + Clear Green 1 part
60kg Bombs Mr. Surfacer 500 stippled with short stiff brush for texture then painted with Vallejo Model Air Olive Grey (RLM71)
Hinomaru Vallejo Air Color: Red (RLM23) 20 parts + Vallejo Air Color: Fire Red 1 part
Wing ID Bands and Tail Number Vallejo Air Color: Yellow 20 parts + Vallejo Model Color: Bright Orange 4 parts
---
© Rick Kranias 2013
This article was published on Wednesday, May 29 2013; Last modified on Wednesday, May 29 2013