Czech Model 1:32 F-80C conversion to P-80B
By Rick Kranias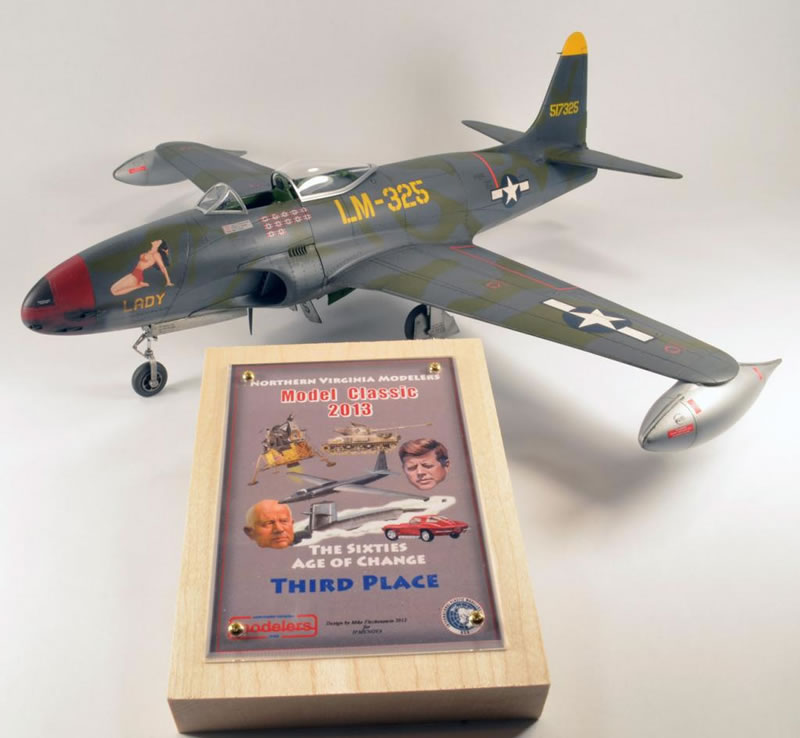 What if the war in Europe continued and it's late summer 1945? This is a fantasy build considering the adjusted history giving the first jets to slug it out over the skies of Europe late summer 1945.
August 1945 The War In Europe Continues
Normandy beach breakout stalled due to 21 Panzer holding advance for several weeks
Operation Bodenplatte took place on original planned date of 16 December 1944 and enjoyed a high success rate therefore impacting allied air superiority for several months, no more Natural Metal Finish (NMF) on topsides for all allied aircraft
Germany's Me 262 (world's first operational jet) entered full operational status by late 1944 as a fighter
The Ardennes Offensive held allied advance well into late February
March 1945, Allied bombing is suffering significant losses from the Me 262. After solving engine issues, the P80B is placed into operational status as bomber escort by late May 1945.
MEET "LADY"
P-80B Representing:
56th FG, 62nd FS, A Group "Platform"
Advanced Landing Ground (ALG)
Laon-Athies Air Base A-69, France - August 1945
Czech Model 1:32 F80C
AIRBRUSH - Iwata Eclipse HP-CS (primer, Alclad, wash) & Harder Steenbeck Evolution Silverline 2 n 1 (camo upper surfaces)
PAINT – Primer: Alclad Grey; Upper: Vallejo Dark Green, Ocean Grey; Lower: Alclad II Airframe Aluminum base, Aluminum, Dark Aluminum, Dura Aluminum, Semi Matte Aluminum; Tail, Code & Serial Number: Tamiya Yellow; Nose: Tamiya Red
WEATHERING – Flory Wash, MIG Wash, MIG Pigments, Thinned Black/Brown wash
VARNISH - Alclad II: Klear Kote Semi-Matte
AFTER MARKET – True Details: Wheel Wells; AMS: Cockpit; Eduard: Masks; Scale Precision Masks: Code, Serial Number, Speed Brake Number
HAVE SOME FUN - Last 5 digits of serial number is zip code to my hometown. Now look at pilot, crew chief and armorer data to find the correlation.
---
© Rick Kranias 2013
This article was published on Thursday, May 30 2013; Last modified on Saturday, March 05 2016