Wingnut Wings Sopwith 7F.1 Snipe (Late) - "Black Ace of Spades"
By Matt McDougall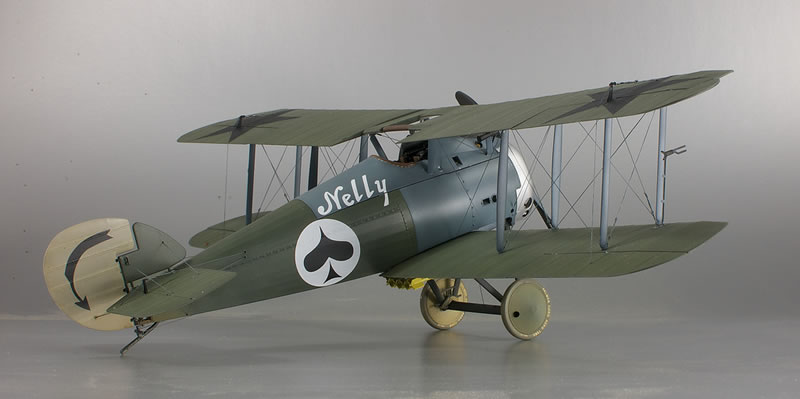 Toward the end of February this year, I found myself laid off. When this happened in 2011 (note to self: stop working for tiny companies with unsure financial footing!), Tamiya's Spitfire kept me sane. So I decided I needed a build to really hurl myself at.
Enter Wingnut's recently released Snipe.
I decided to build Grigoriy Sapozhnikoy's "Nelly" of the Soviet Air Force circa 1920. The scheme just leapt out at me. Too interesting to pass up.
While I didn't use aftermarket (it's not exactly necessary with Wingnut kits), I did use a combination of EZ Line, Gaspatch turnbuckles, uni-mono monofilament and 0.5mm silver-nickel tubing to tackle the rigging duties (far easier on this, my second go-round!).
Paints were a combo of Gunze, Tamiya and Alclad, with oils used for woodgraining the cockpit and propeller.
Thanks for looking...this one was a blast, and I'm planning a double-Pup build soon. Can't get enough of Wingnut kits!
---
© Matt McDougall 2013
This article was published on Monday, August 05 2013; Last modified on Monday, August 05 2013