Matchbox 1/32 Douglas SBD-5 Dauntless
By Olivier Barles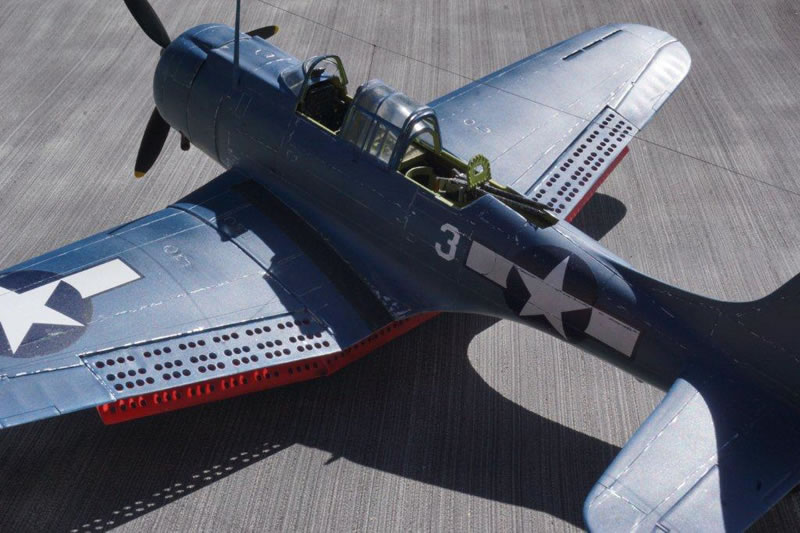 Some photos of my 1/32 Matchbox Dauntless I've just finished, after the box remained stored in my attic for 25 years or so...
Trigger was that I've been offered a few months ago the Trumpeter kit and it reminded me about this old Matchbox Dauntless that had to be somewhere in my house!
Not to say the standards of construction are now slightly different! Anyway I decided to go for mostly an OOB build, remembering my young years as an inexperienced but enthusiastic modeller...
"Concession to modernity", I could not help engraving panel lines on the fuselage and the empennage after I got rid of the "old fashion" raised ones - funnily, wings do have engraved panel lines on the original kit, even though they're excavated like WWI trenches (the good old "Matchbox way"!)
Then, I added a few scratch-built parts in this wide open cockpit - that would have looked very empty otherwise, I "lightly" detailed the central diving flap (choosing to leave the inferior flaps deployed in order to add a nice stain of red in this dominant blue) and I finally over moulded in a thin piece of rhodoid the sliding part of the pilot canopy - so that it can be stuck in a more realistic open position (the model clear parts being very thick).
Painting and a bit of weathering, and you have the result under your eyes...
Probably far from being the most accurate Dauntless found on the web, but a good fun to build!
---
© Olivier Barles 2013
This article was published on Friday, September 06 2013; Last modified on Sunday, April 17 2016