Hasegawa 1/32 J2M3 Thunderbolt (Raiden)
By Frank Daniels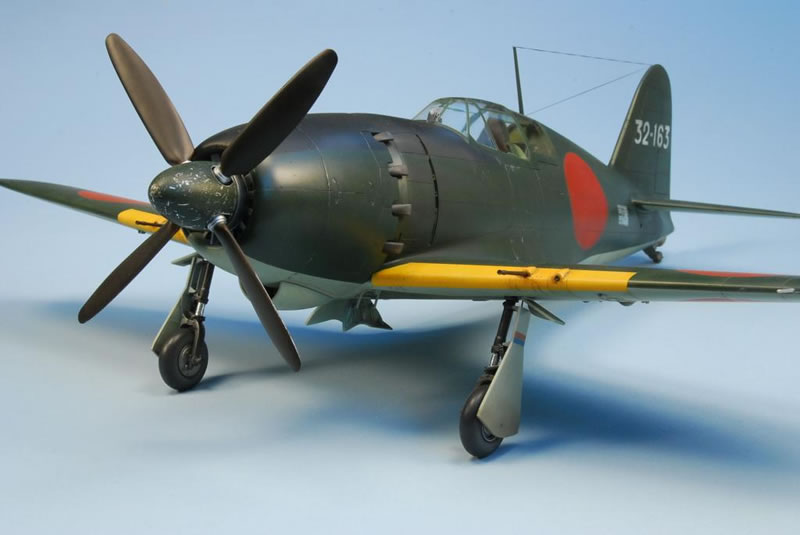 A birthday present from my girlfriend in 2011, it took almost two years to finish it. Granted, a lot of that time it sat on the shelf of doom as it was not going well at all. It was as much a breakthrough for me with new techniques as a lesson in what NOT to do on a build! In the kit's defense, it is really a good kit, with just a few ill-fitting inserts (gun bay inserts) and a cowl/engine assembly that is a bit fiddly - though if you take your time and test fit a lot it will all come together rather well.
I used a custom made set of masks from Ian at Ad Astra for the hinomarus and aircraft tail numbers, and I must say from now on I will no longer use vinyl masks. While they are very easy to use and give nice, sharp paint demarcations, I find they leave some sort of residue on the surface of the model that for the life of me I cannot remove. It appears as a very faint "ghost" of the outline of the mask itself, and I have tried everything I can think of the remove them. I have tried repeatedly sticking the masks onto my hand to remove as much of the adhesive as I can, as well as washing the surface with water and soap to remove the residue. The clear coats magnify the areas, and the oil paint weathering magnifies it even more. I have never had this happen with Tamiya tape, and I think I will go back to decals while I sort out how to cut my own masks from Kabuki tape.
Anyway, I built it almost out of the box, adding only the antenna, brake lines, and seat belts from tape. The antenna was a bit tricky, and in the end I do think it detracts from the overall build. I searched and searched looking for evidence of an antenna on these aircraft, and only after the build was nearly finished did I find a period photo showing it's location. So, I added it in the end and in doing so it looks OK. Paints used were Tamiya paints for everything, and weathering applied with oil paints. I went light on the paint abuse as I have read these did not see a lot of action, due to many factors included lack of fuel, engine failures, and a shortage of pilots who could fly it. I have to say, I rather like its stubby appearance, and I am happy to have finished it so I am ready to tackle the N1K2 Shiden Kai when it arrives in the next month or so!
---
There is a build thread for this model in the LSP forums.
© Frank Daniels 2013
This article was published on Friday, September 06 2013; Last modified on Saturday, January 14 2017