Revell 1/32 P-38J
By Angelo Picardo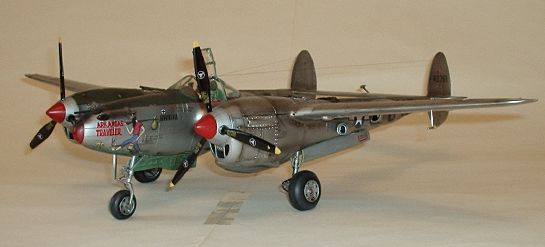 This is my Lightning. It is built from the Revell kit. I sanded off all the raised detail and re-scribed it all. The fasteners for the engine cowlings and other covers were remade by punching out discs of thin plastic card, gluing them into place then cutting a slot in them once the glue had dried. The cooling flaps on the engines were cut away and new ones fabricated from thin aluminium sheet. The radiators in the booms were fitted out with interiors to remove the straight through effect when you looked in them.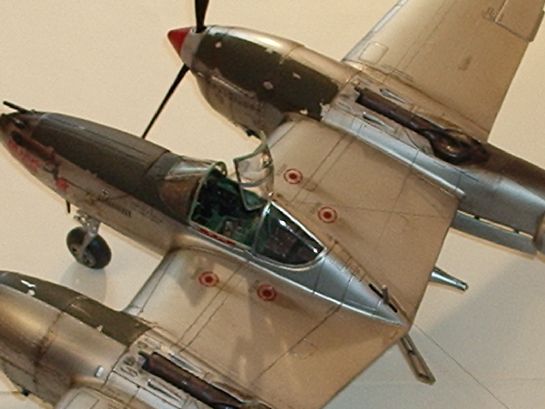 The cockpit was re-done using the Verlinden resin set and Eduard Photo-etched sets. Though these are designed for the Trumpeter kit, they can be used with a few minor adjustments, in the Revell version of the P-38. I had to place quite a bit of lead shot in the nose to keep the nose wheel on the deck so no gun bay detail was put in.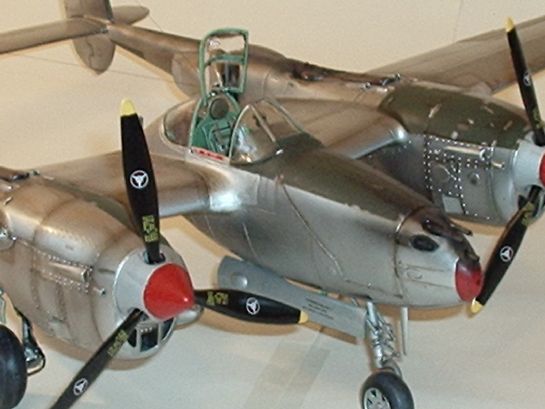 The paint job was achieved using Alclad aluminium with Tamiya olive drab for the anti-glare panels. The decals are from the kit. To weather the model the paint was sealed under a coat of Klear acrylic floor varnish. Then a wash of raw umber oil paint thinned with mineral spirits was run into the panel lines. Any excess was wiped away and then Tamiya smoke was used to simulate exhaust stains, gun staining and general grime on the airframe. I also used Mig Productions weathering powders to produce the exhaust stains and weathering around the turbo chargers. This is an old kit and has been superseded by Trumpeter's kit but, I thoroughly enjoy taking these old kits and revamping them.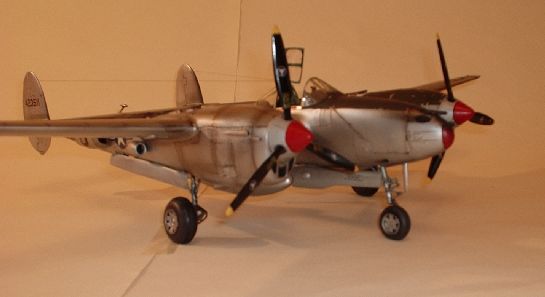 © 2005 Angelo Picardo
This article was published on Friday, September 27 2013; Last modified on Saturday, May 14 2016