Gotha G IV WWI Bomber
By Robert Karr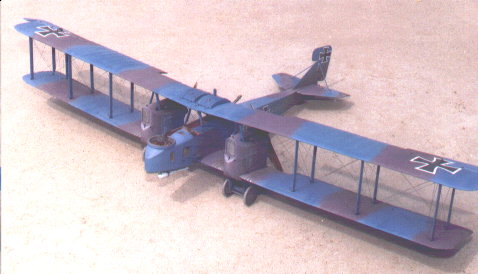 During the Great War of 1914-1918, "Gotha" became an almost generic word for any heavier-than-air machine that raided the British Isles. Less well known than the more (literally) flambouyant Zeppelin air ships, the Gotha's fame was renewed somewhat in the early 1960s by the appearance of the Aurora 1/48 plastic model kit. This kit was always difficult to find, but to a generation of young baby boomer model builders it became the Holy Grail. Counting myself among this group, I never laid eyes on an actual example during this period, but I had the Aurora catalog and from the box top illustration I just knew it would be a great model!
Perhaps because I was never able to find one of these fabled kits in my younger years, the "charisma" of the Gotha stayed with me, culminating in the huge 1/32 scale scratch built version shown here. Using a combination of traditional and new-fangled modeling techniques, this beast spans 29.15" with a length of 14.59". The wings were made the old fashioned way - silkspan tissue over a wooden frame of ribs and spars. The fuselage is 1/64 birch ply - the best way to mimic the construction of the original. Details such as the engines are various sizes of plastic tubes, heat-stretched plastic scrap, and wire. The model was rigged with different weights of mono-filament fishing line and it IS structural! This rigging holds the plane together and keeps it in line (except on unusually hot and humid days when it does sag a little!). 99% of all gluing was done with cyanoacrylate ("Super Glue").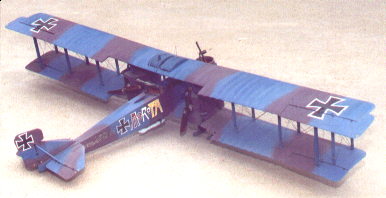 All parts of this model began as raw stock, the only pre-formed shapes being the tires which began as plumbing "O" rings.
The model depicts Gotha G IV number 991/16. Built by L.V.G. under license from the Gotha works, she was flown by Kagohl 3 in the summer and autumn of 1917. Based in Belgium, she crashed November 11, 1917. The stylized initials MoRoTa on the fuselage sides stand for the crew - Leutnant Mons, Leutnant Roland and as yet unidentified third crew member.
The references used in the making of this model include various magazines - several issues of World War Aero and Cross and Cockade Journal (U.S.) were consulted - really too many to list here, but altogether they formed a stack about one foot tall! The two master references were:
Gotha! by Peter Grosz, with scale drawings by Ian Stair; colors and markings by Dr.G.K. Merril and color plates by Ray Rimell. Published by Albatross Productions Ltd. 1995.
and a two part article by Harry Woodman in the February and March 1977 issues of the fine British magazine Scale Models that also included Woodman's great scale drawings.
Gotha G IV specifications
Span: 77'9 1/2" (23.7 m)
Length: 38'11" (11.86 m)
Power: two 260 hp Mercedes diva six cylinder inline water cooled engines
Armament: usual bomb load on raids over England was six 50 kg (110 lb) bombs externally mounted; up to three Parabellum machine guns for self defense
Max. Speed: 87.5 mph at 12,000
Ceiling: 21,320', reached in appx. 52 minutes
Range: 300 miles
UP-CLOSE: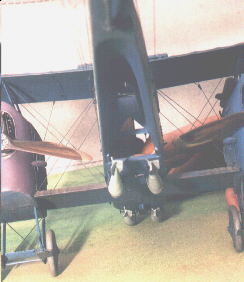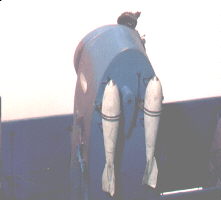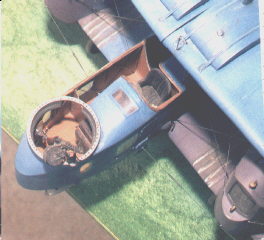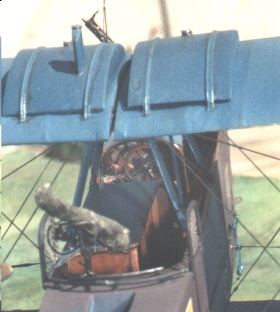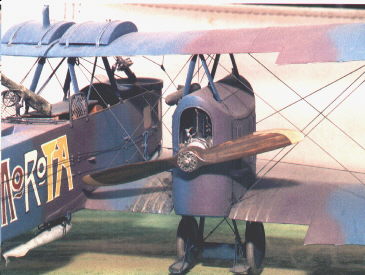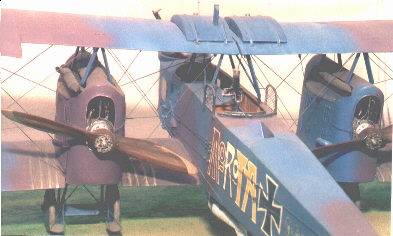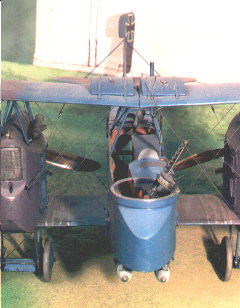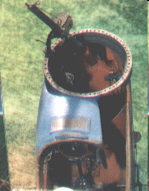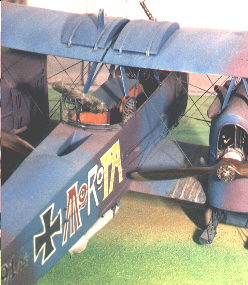 © Robert Karr
This article was published on Wednesday, July 20 2011; Last modified on Saturday, May 14 2016