Revell 1/32 Rebublic P-47 D-40 "Thunderbolt"
By Chris Novak
Rebublic P-47 D-40 "Thunderbolt"
Ser.Nr. 44-90460 "40 - HUN HUNTER XVI"
65th FS, 57th FG, 12th Airforce, Capt. Gil Wymond
Kidding first: after beeing on an model-expo at the end of June in Frankfurt displaying a few of my cutaways including the whole "Sachsenberg-Schwarm, 3 Silver Jugs and the Seafire FR 47 some of my modelling comrades (and also some visitors!) declared me to be a kind of mad, insane (and something more) because of showing a plane's construction, technique and interior by scratchbuilding these cutaways. After the second day my clubmate Michael Ullmann, a very great modeller and book-author himself, gave me the nickname "The Ripper" because of that...OK, a bit funny but I think I like it...as long as the men with the white suit don´t try to catch me! But to be serious: this is the next one of my "Silver-Bubbletop-Jug" project showing one more absolutely beautiful P-47D because of it´s colourful nose-art and the yellow stripes. Again, it´s an actual (?) REVELL kit, but this time I once more tried to raise the level of detail and accuracy by trying some new techniques. Some of you may have followed the online build in LSP's "works" forum and as promised I´ll do a detailed three part article how to handle those old REVELL kits to make them look right beside all those new tooled "Doras" and "one-o-nines".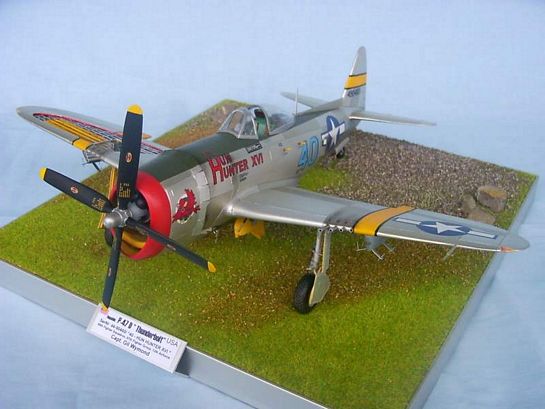 This time , after using bare-metal foil on the two jugs before only partially on some flat panels over a coat of different silver colours I decided to do a complete foil-job on this bird. Because of the practising with the Jugs before, on this one the foil job worked very good and I´m very satisfied with the result. After trying some colours and metalizers I´m finally sure: for a NMF nothing looks better than a completely "foiled" bird, although the foils I used (Bare-metal chrome and aluminium) were coated with semi gloss after decaling and finally waxed with my special furniture wax the foils give a very natural and real shine and gloss. By the way: thanks a lot to Jay Kim from HOBBYDECAL for a test sheet of his great dry- transfer stencils! Although I did not use all of his stencils because the other plane markings are a mix of water-slide decals from the kit and self-made (and partially hand-painted) markings - for example nose art, therefore I had to give her final the coat of semigloss - the dry transfers worked very good and the quality is absolutely perfect. Highly recommended, you can read some reviews of the great HOBBYDECAL stuff here in LSP.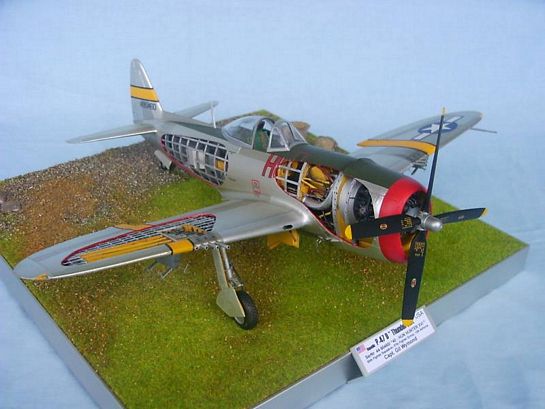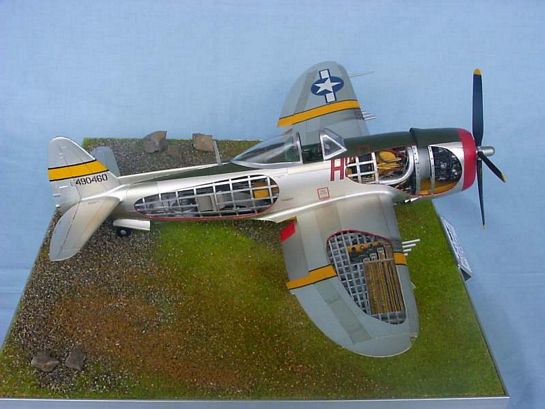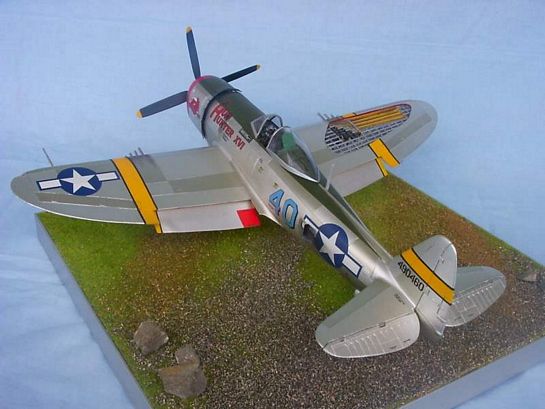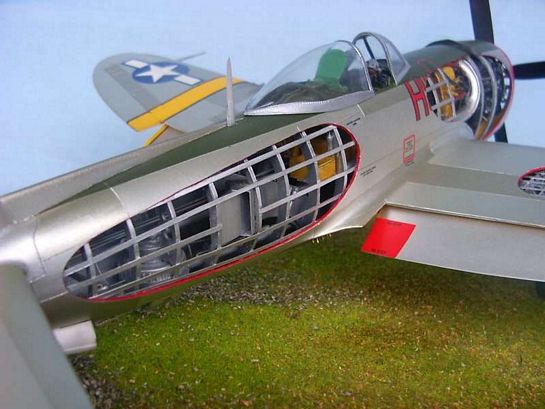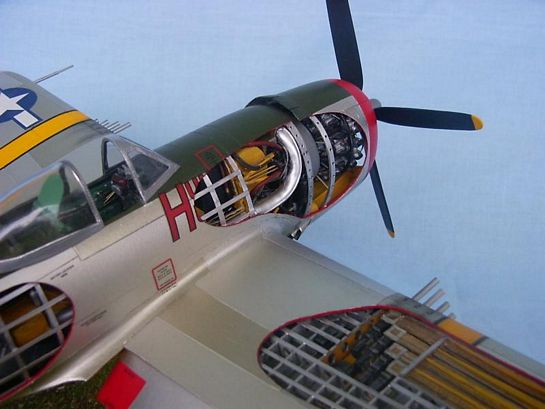 The major modifications - which will also be described in the detailed article- are: All service panels are made from aluminium and applied with what I call "hot-metal-technique",landing gear made from aluminium tubing, landing flaps made from aluminium-sheet, panel lines rescribed, cockpit scratched, wheels (including spoked-covers) and prop from Jerry Rutman, inner gear-bay doors modified, fuselage and underwing ETC modified / added, some vents and drains on fuselage underside added, covers of ailerons (visible on wings underside) added, prop and lights are working.
After being a little bit in a hurry by trying to get this bird finished right in time for the model show in Frankfurt (finished her only 3 days before!) it was a absolutely great surprise to me to get the first price at the contest there in the planes category! Again, I would like tho thank LSP to give me the possibility for the online- build and especially all the great guys there who shared this build with me and helped with comments, infos and some pics. LSP rulez!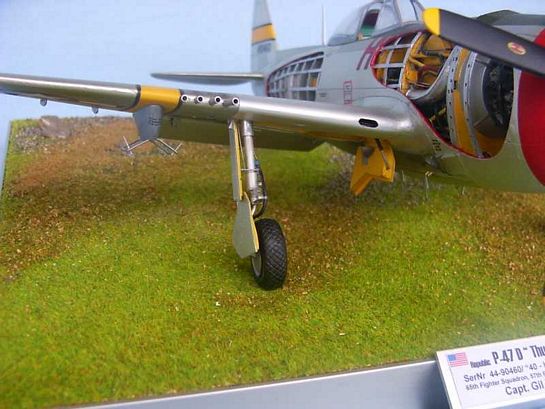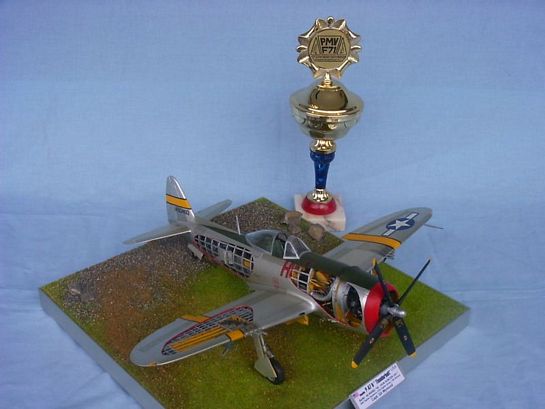 © Chris Novak 2004
This article was published on Friday, September 27 2013; Last modified on Saturday, May 14 2016