Hasegawa 1/32 Israeli Skyhawk
By Ed Okun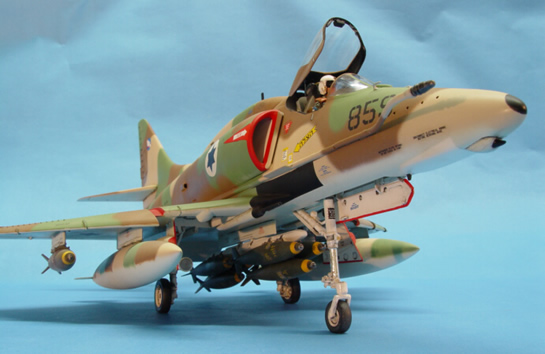 I noticed in the "Gallery" that there is only one "Skyhawk" represented. This one again in Israeli airforce scheme (a favorite theme for me, as I lived there during the "1973 Yom Kippur" war and some time after).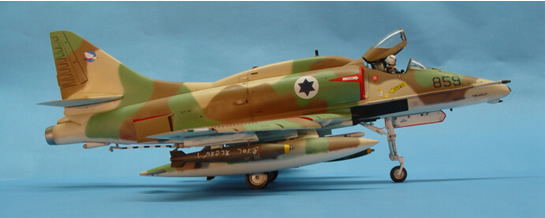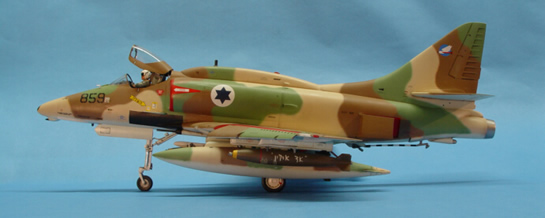 The model was another reincarnation (as with my Revell MiG-21), in that I built the original Hasegawa 1/32nd scale model in 1988. As it slowly yellowed on the shelf, I avoided the urge to pitch it, and instead stripped off the old paint with oven cleaner and a toothbrush, revised a few deficiencies and saved all my original conversions (extended tailpipe and 30mm DEFA cannon fairings underwing). The new markings show this plane is attached to the 110 squadron, IAF "Knights of the North".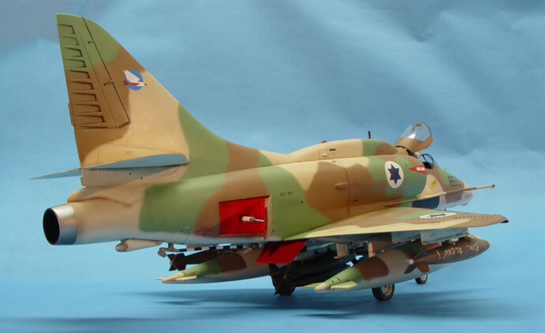 I am in process now of building another Skyhawk, the A4-H conversion, without the avionics hump and in the original Douglas aircraft color scheme. Their green paint (FS 34258), used in the Israeli topside camouflage pattern, appeared to have more of a yellow tint than the McDonnell Green paint (FS 34227) on the F4-E Phantoms. This is how the aircraft were delivered to Israel in 1968 and appeared throughout the late 60s and early '70s. After the 73 war, all Skyhawks were eventually upgraded with the extended tailpipe, avionics hump and repainted using the McDonnell shade of green.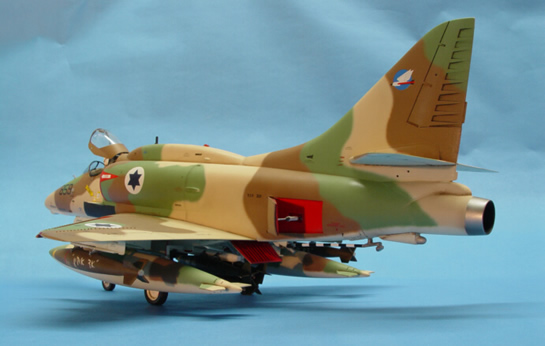 © 2005 Ed Okun
This article was published on Friday, September 27 2013; Last modified on Saturday, May 14 2016