Eurocopter AS532 Cougar Helicopter in 1/32 Scale
By Meindert de Vreeze
Using the original Matchbox Puma helicopter kit (later issued through Revell also) I started this large conversion project. Being a Dutch modeller and as the Dutch Airforce operates the Cougar helicopter on behalf of the AirMobile Brigade, I really wanted this model in the collection.


The Cougar is a very different helicopter than the Puma but also thereare common features. Briely, the conversion required:
lengthened fuselage
interior details
new nose
changed tail section with new tail rotor
new main rotor system and longer rotor blades
new main gear with their respective fairings and float gears
exhaust pods
Also, it was decided to make a Cougar used for naval testing. It took a lot of work, more details can be found here on this website:
http://www.xs4all.nl/~designer/models/cougar-32/cougar-1.htm
Having a 1/32 Cougar in the collection was worth all the effort.
Enjoy large scale modelling!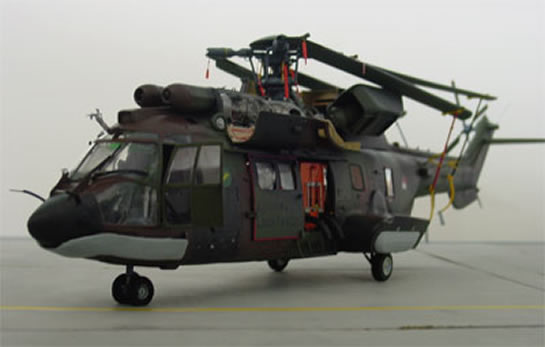 © 2005 Meindert de Vreeze
This article was published on Friday, September 27 2013; Last modified on Saturday, May 14 2016