Hasegawa 1/32 Nakajima Ki-84 Hayate
By Matt McDougall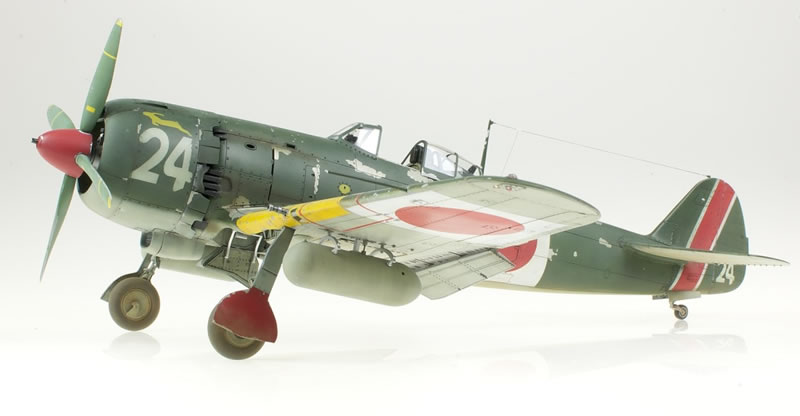 Mini-Review
Though I've dogged Hasegawa in the past for a tendency to put in what seems like a somewhat antiseptic, just-enough-to-get-it-done engineering ethos, I have to say the Ki-84 is fantastic. Well detailed (mostly), extremely well-engineered, thoughtfully laid out and so on. I honestly think it'd take a Tamiya effort to unseat this one.
Aftermarket Used
The Frank is a solid kit, but it can definitely stand for improvement in some areas.
Eduard Interior PE: To me this is a must for this kit. The Hasegawa seat is a joke that, even to my lax accuracy standards, had to go. Eduard includes a very nice PE seat, their instrument panel is top-rate, and lots of little bits and bobs round things out nicely.
Eduard Exterior PE: Primarily used for the landing gear (awesome oleo scissors), gear bays and the chin radiator mesh (I used lead wire for the engine wiring). Added awesomeness were the little PE holes for the tail and antenna mast for a more realistic aerial rigging situation.
Montex Masks: The marking options in my Hasegawa boxing sucked, so I went with Montex instead. Never again. The way they laid out their masks, apart from the "24" on the cowl and tail, I'd have been better off just using tape. Despite all of the hinomarus being on white Home Defense band-aids, some of the masks included the white hino border, which is thin and a pain to keep circular (and pointless for this scheme).
Stuff that should exist: Brass or resin replacements for the Ho-5 cannons in the wings. The kit parts suffice, kind of, when drilled out, but nothing beats well-turned brass for such prominent armament.
Paints and Techniques and Stuff
Paints were primarily Gunze all around, with Tamiya AS-12 Bare Metal Silver and Alclad Duraluminum used for the metal undercoat. Tamiya paints got some workout (exhaust stains), as did Vallejo and Model Master (small detail work)
Liquid frisket was used for the chipping effects. Next time I will combine the frisket for the larger areas with salt for a bit more randomness.
The underside used a primarily black coat beneath the Gray Green. The upper surfaces used extensive pre-shading with black, engine gray, IJN Green and Sea Blue.
Surfaces were faded with salt weathering, then with oil dot filtering, and panels washed with Flory Dark Dirt and (on the green) Flory Black.
Final clear coat was Gunze Flat Clear
---
There is a build thread for this model in the LSP forums.
© Matt McDougall 2013
This article was published on Wednesday, October 23 2013; Last modified on Monday, March 28 2016