Hasegawa 1/32 TA-4J Adversary
By Darin Bellis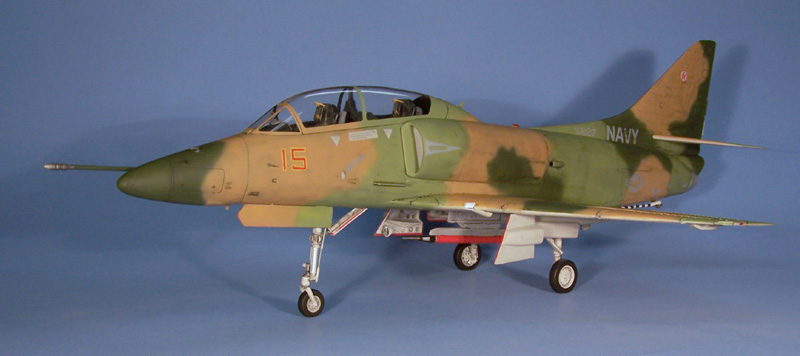 This is the Hasegawa TA-4J kit finished as a US Navy Adversary machine. My buddy Gozer spotted me eyeballing this kit on a vendors' table at the ValleyCon last March, and bought it for me. Thanks again, Gozer! I started it that same weekend, and just finished it last weekend (December 15th). It was built as (my very limited) time allowed, which was usually just a half hour here & there over those 9 months. Consequently, no WIP shots - sorry.
The only aftermarket part is the cockpit, which is the Avionix set sourced off of eBay for $20 shipped. I'm glad I got it, but was not pleased to find the front instrument panel's hood cast to the panel cocked a little bit to one side. It took more than a little bit of fooling with it to get it to sit properly. Otherwise, the cockpit was beautiful, and eliminated the need for any further nose weight. I didn't bother with rescribing ay of the kit because the surface detailing, while mostly raised with some recessed, is quite beautiful as-is.
The rest of the kit was built box-stock and painted with Model Master enamels. The camo colors are RLM 79, Green FS 34258 and Dark Green FS 34079 over Light Gray FS 36495 applied using a Classic Airframes 1/48 kit's painting guide. The wheels, landing gear and wheel wells were treated to a wash of acrylic black diluted with Windex. The exterior was washed with Flory Models' excellent 'Dark Dirt' wash. The decals were sourced from numerous sheets, with most of the nose warning decals coming from TF-16 and F-14 sheets.
All in all, a mostly trouble-free and enjoyable build.
---
© Darin Bellis 2013
This article was published on Sunday, December 22 2013; Last modified on Saturday, December 28 2013