Academy 1/35 AH-1W Super Cobra
By Mohammad Adl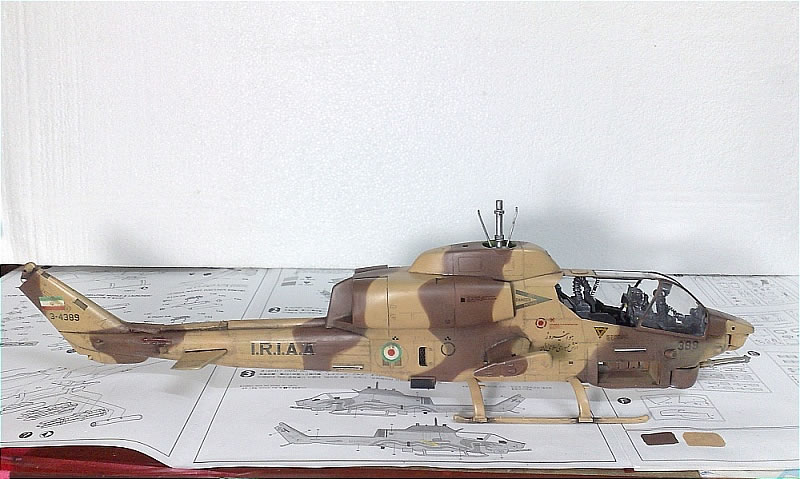 This model is a Academy Ah-1w Super Cobra, box 12702. This kit was very good.
I made in November 2013. This model is with Iran Camouflage. I made this model during about 20 days.
I build this models with all restrictions.
In my country is lack of buying facility results in boycott. The boycott is unfair because that causes hurt to all people not to government (especially artists).
About the Building materials and materials effects on my model. Especially here is very difficult for us modellers here. For example we can not find the material and many of the kits and tools...in my country, Because of U.S. boycott. I added a weathering on paint scheme with materials handmade by myself.
This materials in not very good and I don`t like, but we forced.
In Progress Photos
---
General Characteristics
Crew: 2: pilot, co-pilot/gunner (CPG)
Length: 53 ft 5 in (16.3 m) (with both rotors turning)
Rotor diameter: 43 ft 11 in (13.4 m)
Height: 13 ft 5 in (4.1 m)
Empty weight: 6,610 lb (2,998 kg)
Max. takeoff weight: 10,000 lb (4,540 kg)
Powerplant: 1 × Pratt & Whitney Canada T400-CP-400 (PT6T-3 Twin-Pac) turboshaft, 1,800 shp (1,342 kW)
Total engine output: 1,530 shp (1,125 kW) limited by helicopter drivetrain
Rotor systems: 2 blades on main rotor, 2 blades on tail rotor
Fuselage length: 45 ft 9 in (13.5 m)
Stub wing span: 10 ft 9 in (3.28 m)
Performance
Never exceed speed: 190 knots (219 mph, 352 km/h)
Maximum speed: 152 knots (175 mph, 282 km/h)
Range: 311 nmi (358 mi, 576 km)
Service ceiling: 10,500 ft (3,215 m)
Rate of climb: 1,090 ft/min (5.54 m/s)
Armament
20 mm (0.787 in) M197 3-barreled Gatling cannon in the M97 turret (750 rounds ammo capacity)
2.75 in (70 mm) Mk 40, or Hydra 70 rockets - 14 rockets mounted in a variety of launchers
5 in (127 mm) Zuni rockets - 8 rockets in two 4-round LAU-10D/A launchers
AIM-9 Sidewinder
Finished Gallery
---
© Mohammad Adl 2013
This article was published on Wednesday, December 25 2013; Last modified on Thursday, December 26 2013