Revell 1/32 RAAF Mirage A3-86, Flt Lt Noel Furber
By Eric Galliers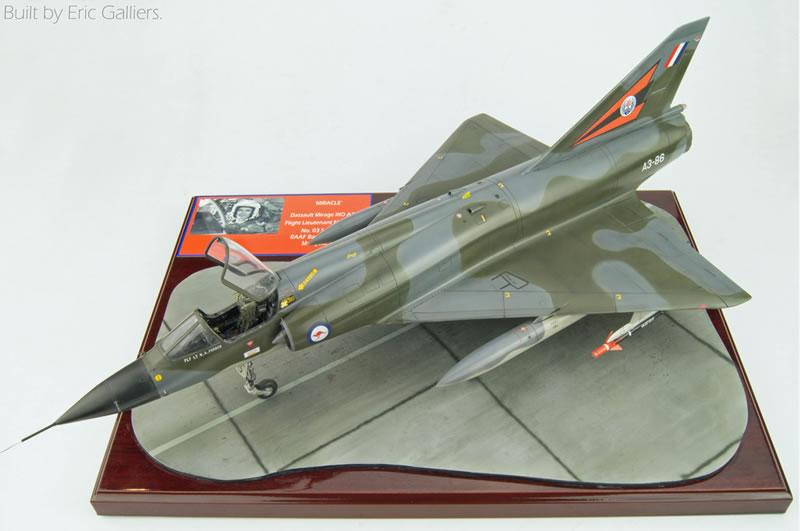 What started as a voyage into the unknown ended with this model which I hope taught me many new things about my own modelling. I pretty well pushed every boundary with this build, often doing things which I had no idea whether it would work or not. Previous to this build I had some basic skills in scratchbuilding and had never used Silicone to make copies of anything, let alone parts for a model. Thanks to you guys that have followed along with this build, it has certainly kept it going knowing that you guys have been encouraging me along the way. The resin parts that I made for this kit were sent to 21 different countries and I can say that I have made many friends along the way.
When I was a First Officer flying the Q400, I used to fly with Captain Noel Furber. I discovered that he was an ex-RAAF Mirage pilot, having also flown the Canberra and the F-111, with a period in the UK flying Hunters as well. He inspired me to make this model. I am sure he used to dread having to fly with me as I used to hammer him with many questions about Mirages, usually about small details. He was kind enough to supply me with the following details.
He first flew the Mirage on the 26th JAN 1972, with his last Mirage flight on the 15 JUL 1981, finishing with 1665 hours total Mirage time. His first flight in Mirage A3-86 was 29 August 1972 with 28 flights in this particular aircraft.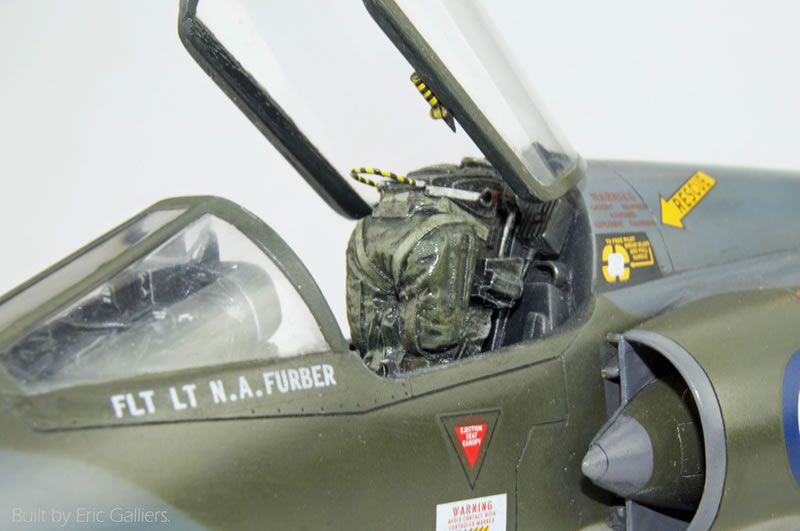 I am indebted to many guys that helped me out with this model, from answering emails about obscure details, to jumping in their car and driving to museums just to photograph something for me or guiding me along in my resin casting. Thanks to the following guys:
Ian Kaiser
Peter White
Darren Mottram
Dave Coupe
Mick Evans
Sean Trestrail
Dave Newsham
Harold Offield
Noel Furber
Kevin Bricknell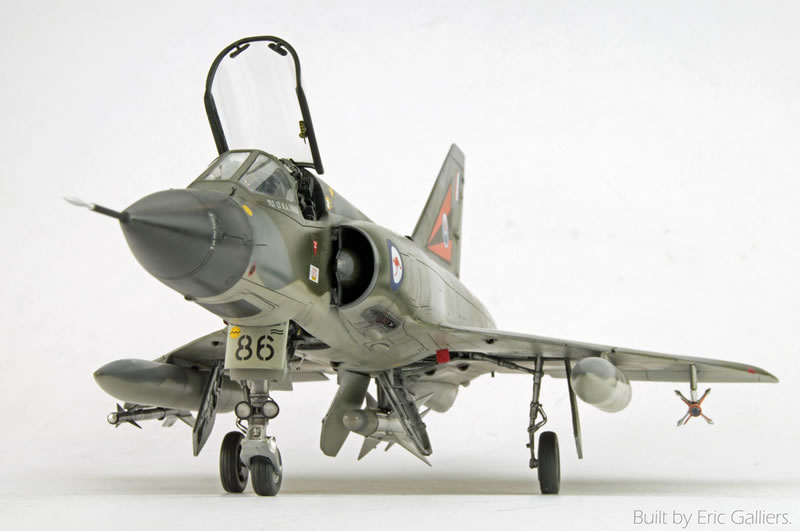 Modifications
Spine crimped in to change its profile
Canopy bottom rails angled
In front of windshield re-shaped
Intakes modified and reshaped
Tailcone reshaped and scratchbuilt parachute housing
Antenna on top of fuselage
AoA vane added
Coolant gauge added RHS FWD fuselage
Reshaped kit nose cone
Totally rescribed
Canopy breaking knife added
Rear view mirrors added
Modified elevon covers
Sratchbuilt Aero 3B sidewinder rails
Sratchbuilt AIM 9B sidewiders
Sratchbuilt Matra R.530
Sratchbuilt Matra centre Pylon
Sratchbuilt Landing lights
Sratchbuilt Cannon troughs with blast deflectors
Sratchbuilt Air data probe
Sratchbuilt Hydraulic locking handles and covers
Sratchbuilt front wheel well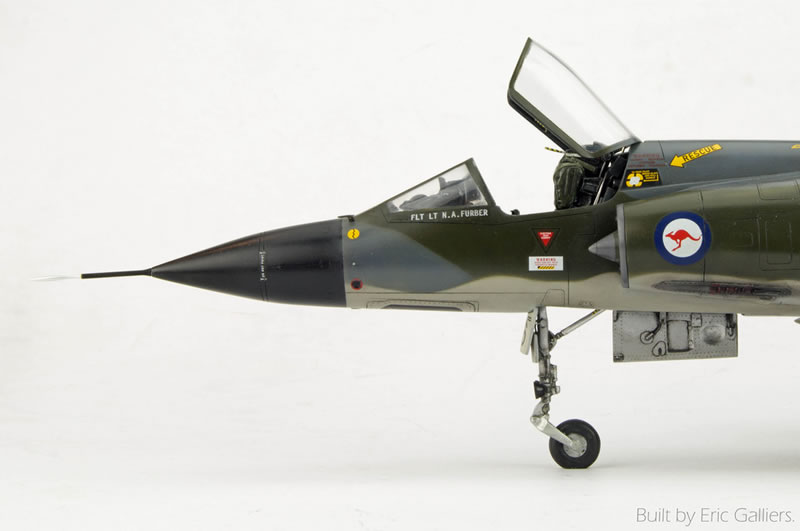 Modified Aftermarket Parts
Reshaped G-Factor legs (brake lines and other parts)
Isracast Jetpipe and rear turbine face/flame holder
Isracast front gear flipper door
Heavily modified Fisher cockpit (both in shape and >180 parts added)
Heavily modified Isracast Main gear bays (approx. 140 parts added)
Modified Isracast exhaust nozzle 50 parts added
Slightly modified Fisher Martin Baker MK4 seat
Non-modified Parts
Decals
Composite of kit, Novoscale and others as well as ALPS printed
Photo Gallery
---
© Eric Galliers 2014
This article was published on Monday, January 13 2014; Last modified on Friday, July 01 2016