Tamiya 1/32 P-51D Mustang "Blondie"
By John F Smith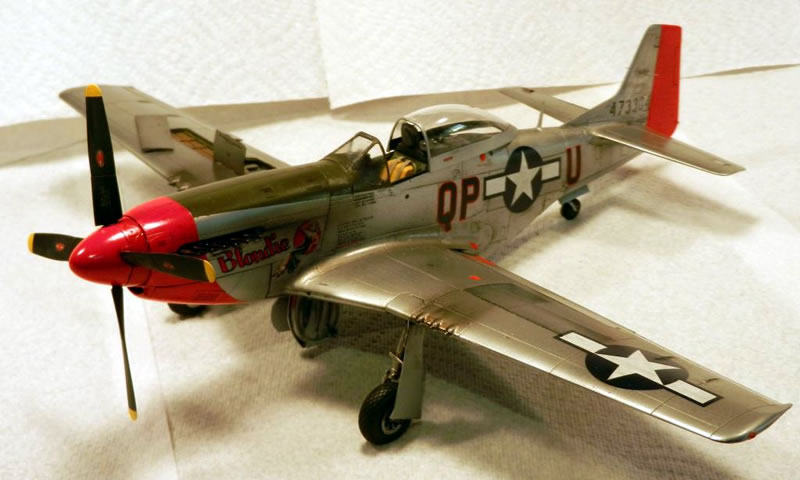 I had alclad problems with this plane, so I'm moving on with some good lessons learned, and a heavily weathered finish on "Blondie" to make up for the Alclad problems!
---
I don't have any real comments about the Tamiya kit; it's already been commented on hundreds of times.
Lessons I learned about Alclad and problems I had on this build.
The glossy black primer is a must, even though their website says that the appropriate primer for non-high gloss finishes is the surface primer and micro filler product.
I polished the dickens out of "Blondie" and still ended up missing some spots, I think it's check it, check it, and check it again.
My finish turned out to have a muted sheen and a grainy finish. I think I was doing several things wrong:

Either I was spraying too far away from the surface, or my air pressure was too high...or both. I think that was the cause of the grainy finish.
With Alclad, less is more. I think I put way too much on the model to the point where the gloss black couldn't help with the reflectivity and the sheen. I think that's the ticket is probably to apply enough Alclad until you think you are just short of an ideal amount and then stop. That's probably the right amount of Alclad to apply.

I found the stuff relatively easy to work with. My gloss black coat was cured in 24 hours, and the Alclad itself was able to be handled in about the same amount of time.
With a grainy finish, heavy weathering was just the thing to make the grainy finish look "right". I put on a wash after the Alclad was cured, and then sprayed with future to make up for the grain in the finish. Applied the decals using Micro Set and Micro Sol. Then put a wash on the decals so they would look consistent with the rest of the airplane. Finally, I airbrushed on the machine gun and engine exhaust stains with a heavily diluted solution of Tamiya Smoke. I haven't sealed the decals on yet, and I'm not sure if I'm going to.
© John F Smith 2014
This article was published on Sunday, January 26 2014; Last modified on Wednesday, February 24 2016