Tamiya 1/32 Spitfire VII Conversion
By Dave Eales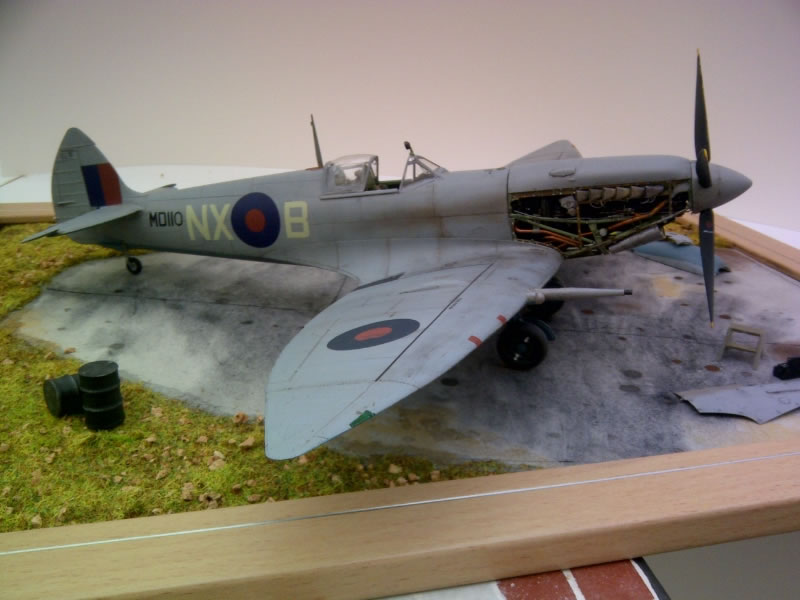 I thought I would dive in and put up some pictures of my Tamiya 1/32 Spitfire VIII converted to a Mk VII high altitude fighter. I like the slightly different colour scheme and although not a fan of the pointed tips on a Spit I think it looks at its best in this.
The model was based on a series of photographs in the book "Spitfire in Combat" by Alfred Price which show Spitfire VIIs of 131 Squadron at RAF Harrowbeer in the spring of 1944. Now Harrowbeer is just down the road from where I live so a visit there was quite inspiring. The blast pens and quite a bit of runway, taxiways and some buildings still there and readily accessible as it now a common and you can walk most of the site.
The model is built pretty much straight from the box with detailing on the engine from wire and sprue, I made the long compressor intake on the starboard cowling from plastic tube and sprue, added the pressurised canopy rails from scrap plastic card and added some detail to the cockpit.
The model was painted with Xtracolour Medium Sea Grey and PRU Blue (I use a brush as my airbrush is packed away at the moment), weathering is done with a wash of Games Workshop Devlan Mud to highlight panel lines, pastels to show dirt and exhaust stains then all sealed with a fine coat of Games Workshop PuritySeal Satin (brilliant stuff).
The base is an old picture frame and the hardstanding shape is perculiar to the blast pens at Harrowbeer, I haven't seen them elsewhere.
---
© Dave Eales 2014
This article was published on Saturday, February 01 2014; Last modified on Saturday, February 01 2014