Tamiya 1/32 P-51D "Duchess Arlene"
By Peter Willstein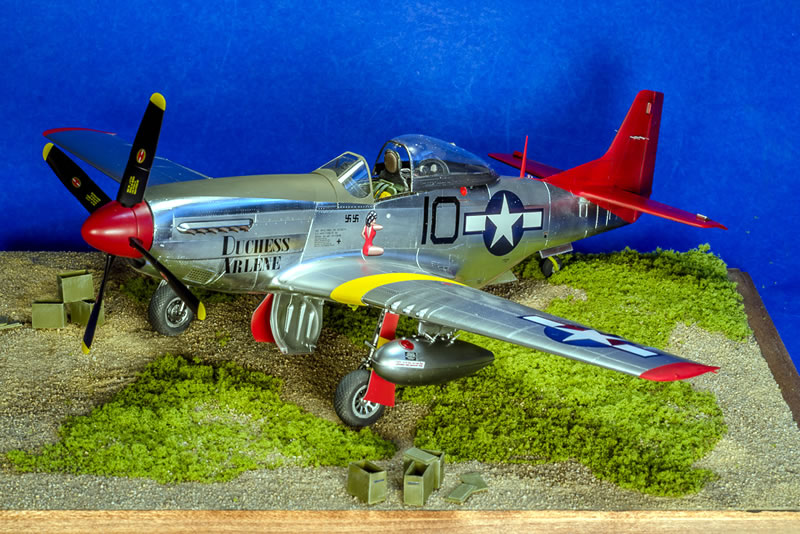 Never again … what a project. Absolutely would have been so much easier to just break open another Mustang and start from scratch. Of course I never do anything the easy way but I did learn a whole lot on how to repair and renovate a kit, what the pitfalls are and what can and can't be done. Right from the start, I decided to do the upgrades only on the exterior and not to even think about any interior work. With my luck I would be tinkering with a disaster. Worse part of the project, I no longer have "Big Beautiful Doll" and absolutely will be building her all over again later this year.
Since BBD was gone, I decided to use the base and had every intention of doing a few figures but failed miserably. I'm first learning how to African American figures, as well as trying to located the correct figures.
I still need to add the engine exhaust streaks but as luck would have it, I didn't have any clear flat to mix with the Tamiya Smoke, so it will have to wait until my next trip to the LHS.
Thanks for all the comments, suggestions and help along the way. And thanks Mark, for steering me to the Uline Nitrile gloves – what a life saver.
---
© Peter Willstein 2014
This article was published on Saturday, February 22 2014; Last modified on Wednesday, February 24 2016