Kinetic 1/32 Sabre - Golden Hawk Mk 5 1959
By William Lawlor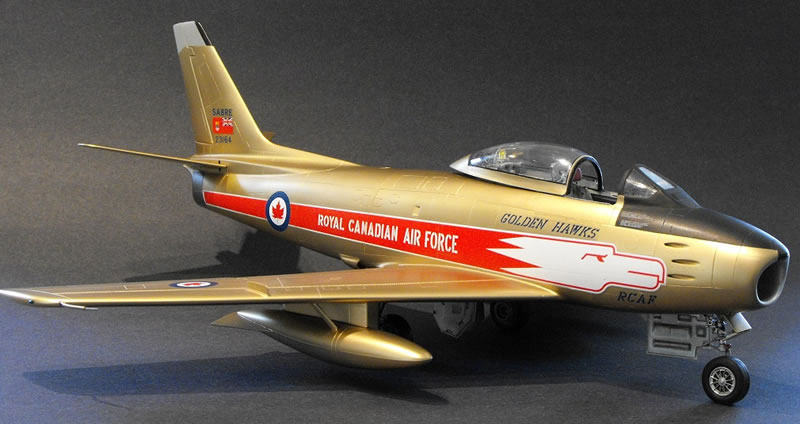 Took the Kinetic kit once again and re-worked the heck out of it. Removed all the deep panel lines and rivets (most of 'em) re-shaped vertical fin, added new tail planes, new nose, gun ports, pylons (re-positioned), new cockpit(AMS), vac canopy, re-worked windscreen and forward windscreen area, re-scribed fuselage and wings ala Canadair drawings, added sugar scoops, vents and hatches, new wing fences...re-worked metal landing gear, nose wheel turns, etc, etc. Yes I'm masochistic.
The Sheffield Luxor Pale Gold used on the GH's was a challenge,was a MUCH different shade than just Sheffield.,A while back James Craik sent me a package of the actual pigment powder that was used to paint them...that he liberated from Chatham back in the '60s. Now here's a fellow who knows more about the Sabre than most ever will as he was there and worked with them...thanks again James. Took some and painted a patch on a spare wing.
Tried a number of gold paints with no joy...then I tried formulating Alclad Pale Gold to match the test patch that I had sprayed,after mucking about for some time I think perhaps we got really close (see pic) 15% Alclad Polished Aluminium to 85% Pale Gold. Why didn't we just use the real powder? Particulate was too large (out of scale) plus it jammed my Iwata something fierce.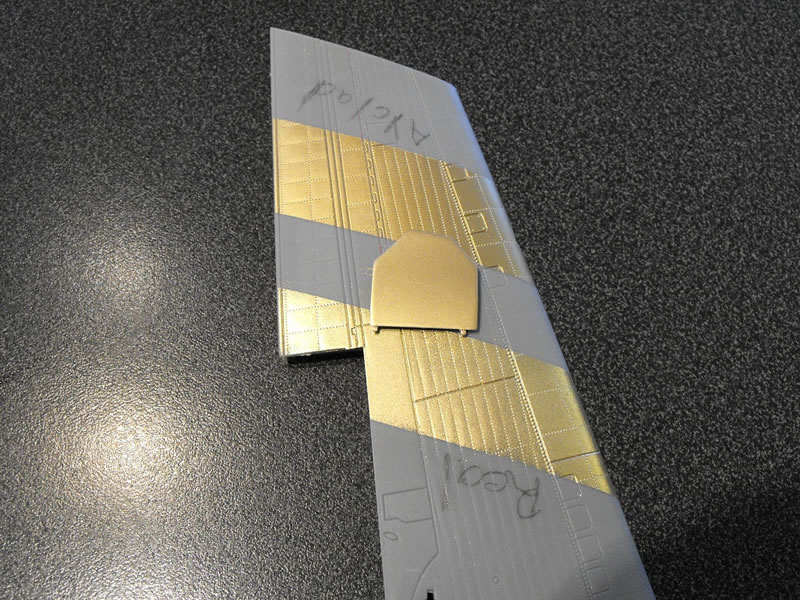 ---
© William Lawlor 2014
This article was published on Wednesday, March 05 2014; Last modified on Wednesday, March 05 2014