Tamiya 1/32 Mitsubishi A6M2 Zero
By Olivier Barles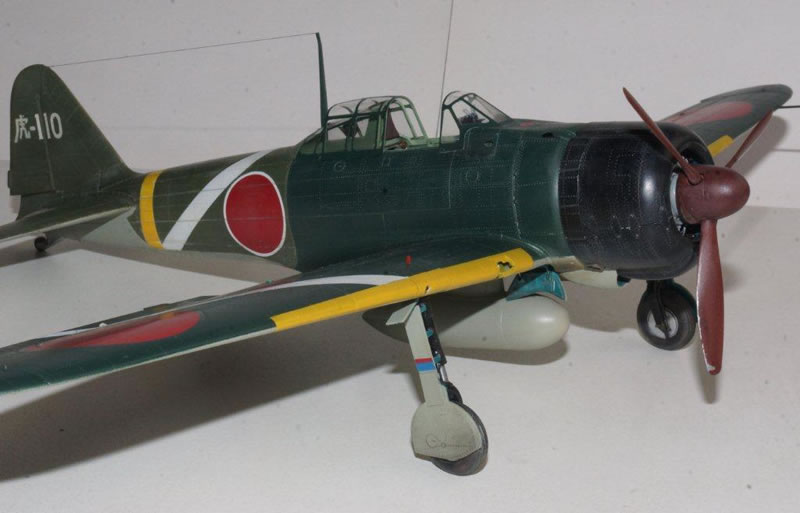 Here is my Tamiya 1/32 scale A6M2 Zero. Nothing to say about its assembling that was of the classical "Tamigawa shake the box" technique...
Main challenge has been in fact to find a way to escape the "boring painting scheme" those machines usually wore, such as the "full light greenish gray" all over.
The solution came from the ephemeral 261st Kokutai created in Kagoshima in June 1943 and "dissolved" in Saipan (in its literal meaning!) after the Great Marianas Turkey Shot in July 1944...
In the meantime, this Group was equipped with all types of Zero, from the A6M2 veteran of the early days to the most recent A6M5 type and the excellent thing about this Group is that many of its planes had very original paintings and markings...
Therefore, my A6M2 wears the colours of the "Tiger 110" ("Tiger"- "Tora" in Japanese - this is the meaning of the Kanji Character on its tail), the mount of the 261st Kokutai Commanding Officer.
Knowing the exact colours of this plane still remains an active debate among specialists, so what's under your eyes is just my interpretation based on a recent monograph on the Zero, edited by "Aerojournal" in France.
I also added a couple of pictures of my 1/32 Tamiya A6M5 I built 2 years ago, showing another original painting from the 261st Kokutai instead of the usual "full plain bluish green above and gray under"...
It is also an interpretation but this time of a picture showing a bunch of 261st Kokutai A6M5 laying on an US flat deck, as they were shipped from Saipan to California in late summer 1944.
---
© Olivier Barles 2014
This article was published on Friday, March 14 2014; Last modified on Sunday, March 16 2014