RAAF Tiger Moth, Phil Martin, No. 9 EFTS Cunderdin 1942
By Eric Galliers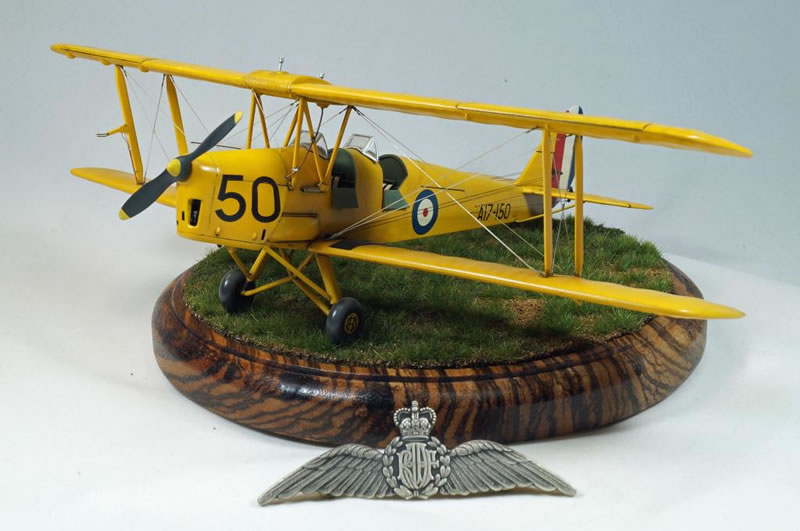 This is a D-82 Tiger Moth A17-150 as flown by Phil Martin during his initial training in the RAAF and solo during the later stages of 1942 at 9 EFTS Cunderdin Airbase, Western Australia. From his log book, he soloed in this aircraft on October 6th 1942. Phil is my grandfather's cousin on my dad's side, so there is a bit of family history in this model for me. Phil went on to flying heavy bombers including the Lancaster in 617 SQN, notably during missions on the Tirpitz. He was awarded the DFC with Bar.
Onto the Model. This is the Matchbox release, mostly Out of the box apart from the following modifications and additions.
Gas Patch RAF turnbuckles
RB Products Sutton Harnesses
airscale RAF instrument decals
Southern Sky decals
Specially commissioned ALPS Decals for the serial/aircraft Numbers (Thanks DAVE!)
Flat knitting in Elastic and AZ-Line for the rigging
Bob's buckles for the control surface rigging terminators
Some other stuff such as Fuel line and pitot tubes scratchbuilt
Total Build time: 3 Weeks from dusting off the old box to putting it into my display cabinet.
---
© Eric Galliers 2014
This article was published on Friday, April 04 2014; Last modified on Friday, April 04 2014