Hasegawa 1/32 Kawanishi N1K2-J Shiden Kai "George"
By Olivier Barles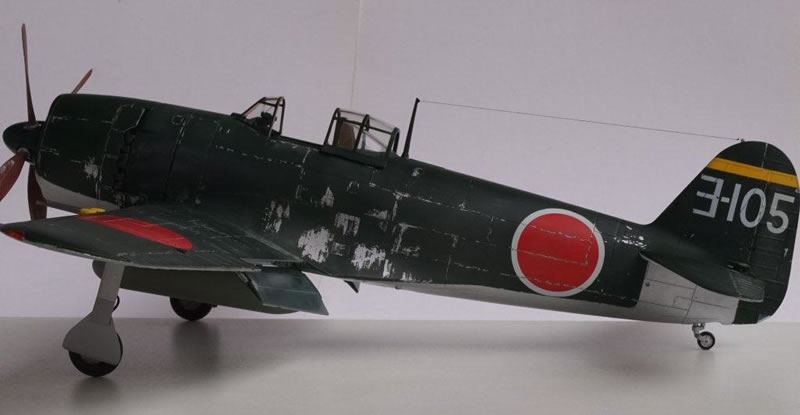 Here is my freshly finished Hasegawa 1/32 scale "George".
I purchased it in a small Hobby shop in Singapore during one of my trips there, that kind of shop I really love: a small and busy place, crowded with boxes and construction stuff from floor to ceiling in every corner, held by passionate people who take their time to discuss and exchange...
This N1K2 is a "straight out of the box" build.
Nothing to say about it - Hasegawa has even moulded brake cables on the undercarriage!
So, only very little things have been added such as plug wires on the engine, even though they are not that visible once the cowling is in place...
In fact, main work was on the painting, trying to reproduce the very special look of some "George" that had their coat of IJN green paint peeled off on more or less wide surfaces all over...
Then, I did some work on the red of the hinomarus, put some dust deci-delà and represented a few stains of some hydraulic liquids or petrol.
With this kit Hasegawa has nearly completed the WWII Japanese Fighter series in 1/32 scale - perhaps we'll be lucky enough to have in a near future a Ki-100 in that scale from this manufacturer?
---
© Olivier Barles 2014
This article was published on Monday, April 07 2014; Last modified on Saturday, August 20 2016