Hasegawa 1/32 F-104S Starfighter
By Tony Mazzu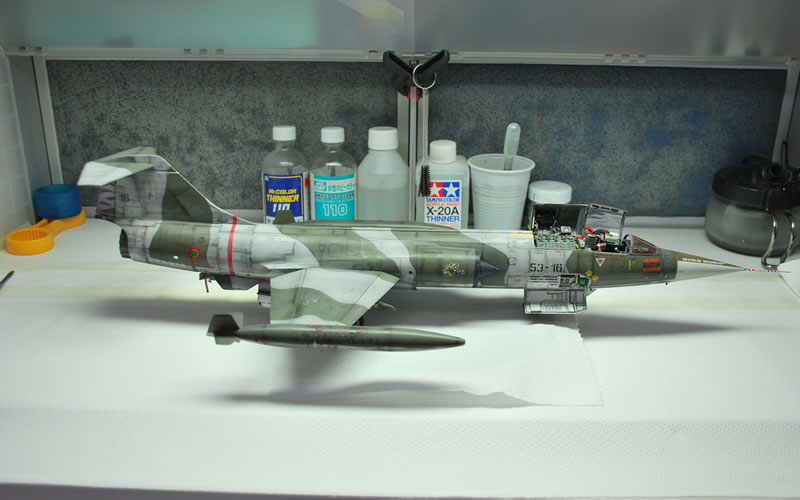 After 15 years spent browsing through many forums and sites modeling without being able to paste a single piece of plastic due to lack of space, now with a bigger house and especially with a entire room for all my modeling, I went back to my favorite hobby.
I have a passion for this scale because it is mandatory to cure the details. For this reason I follow LSP for many years. And finally here is this F-104S-ASA in scale 1/32 Hasegawa. It cost me almost two years of work because of the little free time, but in the end I think it is well worth the effort.
The main work was concentrated on the negative engraving of the panels and then on all changes related to cockpit, avionics compartment, electronic equipment compartment, wheel bay, engine compartment and much, much more.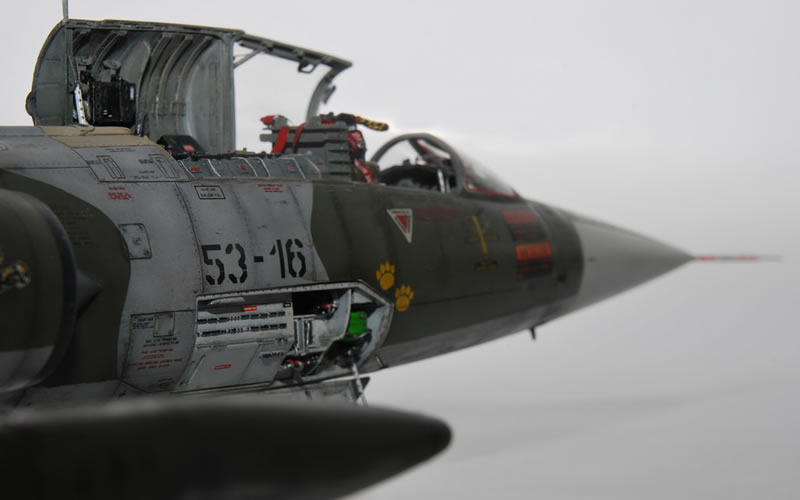 I was quite happy with my job but if I could go back I would try to pay more attention to some details, for example the undersized exhaust of AIRES. I knew very well the problem of the exhaust but I have left for last the job, then after so long, impatient to finish it took me not to change it ... now I repent.
In truth this is only a first step, because now I want to build a nice diorama with the APU, EPU (obviously to be rebuilt because not exist at this scale), pilot and ground operators ... who knows how long it will go yet.
Next project: F-14D Tomcat 1/32 Trumpeter's (I was born with TOP GUN).
Below the long list of aftermarket used for this model.
CMK 5055 (1/32)F-104G Starfighter - Undercarriage set for Hasegawa
CMK 5056 (1/32)F-104G Starfighter - Engine set for Hasegawa
CMK 5057 (1/32)F-104G Starfighter – Electronics boxes (behind cockpit) for Hasegawa
TRUE DETAILS TD32454 Lockheed F-104G/F-104J Cockpit
AIRES AIRES2009 F-4E/J Exhaust nozzles
ALL IN SCALE AIS3201 MB-IQ 7A Seat for F-104 G/S
ALL IN SCALE AIS3202 OPENED PARA-BRAKE
ALL IN SCALE AIS3203 OPENED CIRCUIT BREAKER AND OXYGEN
ALL IN SCALE AIS3206 UNDERWING PYLON
ALL IN SCALE AIS3205 CORRECTED PINE
AIR MASTER AM-32-037 F-104 Starfighter - Pitot Tube
EDUARD EDU-32057 SET F-104S/G Interior/HA/
EDUARD EDU-32060 SET F-104S/G Exterior/HA/
TAUROMODEL DECAL TM32/503 COCCARDE A.M.I. PER F104, F86, TORNADO
TAUROMODEL DECAL TM32/501 DATA STENCILLINGS PER F-104 A.M.I.
TAUROMODEL DECAL TM32/531 INSEGNE E CODICI LO-VIZ PER F 104 A.M.I.
---
© Tony Mazzu 2014
This article was published on Friday, June 13 2014; Last modified on Tuesday, April 26 2016