Hasegawa 1/32 Bf 109G-6 - Major Horst Carganico's 'Mickey Mouse'
By David Mooney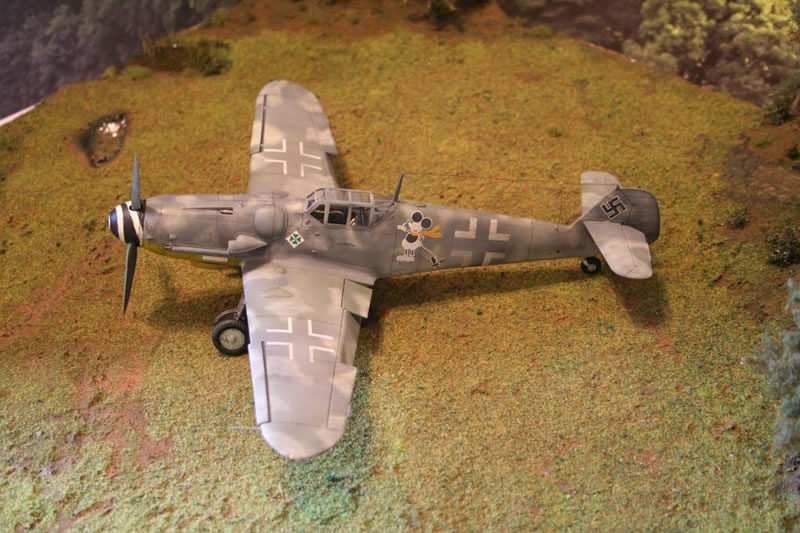 This is my effort at Major Horst Carganico's 'Mickey Mouse' Bf 109G-6 in the era of March 1944, I've found some information on the man id like to share as I think its always nice to know a little about the man in the machine (if the info is wrong, blame wiki pages).
Horst Carganico (27 September 1917 – 27 May 1944) was a German Luftwaffe ace and recipient of the Knight's Cross of the Iron Cross during World War II. The Knight's Cross of the Iron Cross was awarded to recognise extreme battlefield bravery or successful military leadership.
He joined the Luftwaffe in 1937 and attended pilot school at Berlin-Johannisthal. At the outbreak of World War II Carganico was Technical Officer with the staff of Jagdgeschwader 1. In April 1940, he became Adjutant of II./Jagdgeschwader 77 (JG 77), serving in Norway. He claimed his initial victory on 21 June 1940; a "RAF Hereford" (actually a Bristol Beaufort) near Bergen. He claimed several more victories before II./JG 77 was posted to Northern France in November 1940. He claimed his fifth victory on 30 November, a Bristol Blenheim. Oberleutnant Carganico was made Staffelkapitän of 1./JG 77 in January 1941 and stationed in Sola, Norway.
Flying intensively following the German invasion of the Soviet Union, Carganico was awarded the Knight's Cross of the Iron Cross on 25 September 1941 for 27 victories. By early 1942 Carganico commanded 6./Jagdgeschwader 5 (JG 5). As a Hauptmann, he was appointed Gruppenkommandeur II./JG 5 in April 1942 and in summer 1942 he claimed 23 victories in six weeks. On 12 August Carganico was part of a Schwarm intercepted by Soviet fighters and Carganico's Bf 109F-4 was damaged sufficiently to force an emergency landing near Motovsk. He evaded capture and returned to his unit the next day.
On 26 March 1944 Hauptmann Carganico was appointed Gruppenkommandeur of I./JG 5 participating in the Defense of the Reich against the USAAF heavy bomber offensive. Following combat with USAAF four-engined bombers on 27 May 1944, Carganico was killed when his Bf 109G-5 hit high tension cables while attempting a forced landing near Chevry, France.
He was credited with 60 victories in 600 missions, including six victories over the Western Allies.
Carganico was the son of Luftwaffe general Generalleutnant Viktor Carganico. He was buried in the military section of the Waldfriedhof Zehlendorf.
I used the Hasegawa's 1/32 Bf 109G-6 kit and EagleCals decals which are both excellent products.
---
© David Mooney 2014
This article was published on Friday, July 11 2014; Last modified on Friday, July 11 2014