HobbyBoss 1/32 F-84G
By Guy Goodwin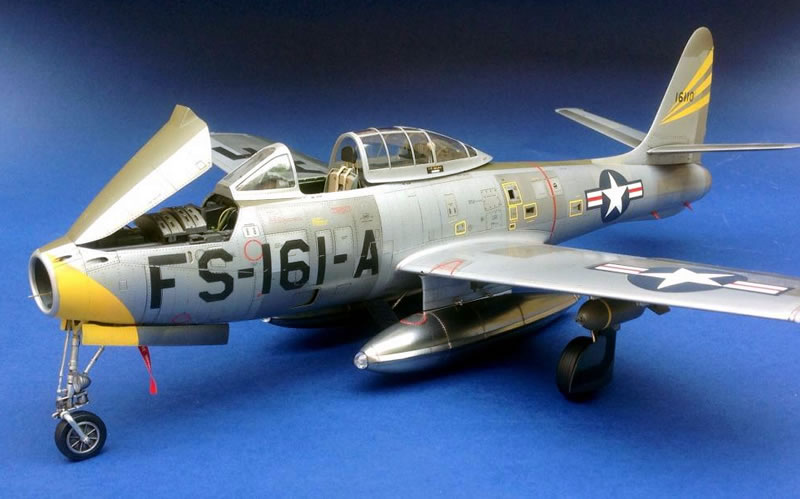 Just finished the Hobby Boss 1/32 F-84G.
I've become something of a kit snob lately, building only Tamiya or Wingnut Wings.. But picked up this on the spur of the moment at the Hendon model show for £25 thinking I'd regret it, but.. The kit is a beauty! Excellent fit, beautiful metal undercarriage as an option to the plastic parts, lovely rubber tires (which I know aren't to everyone's taste but they look great to me) & very fine surface detail - an absolute pleasure to build. Minor minus points for the decals which looked a little patchy to my eye, but to be fair I didn't use them & some detail could be added to the interior, but again, easily fixed these days.
Extras:
Eduard Big Ed set - completely transforms the detail levels - well worth it, but not cheap at £37
Quickboost resin seat - beautiful!
Zotz decal set - nice, but in the end I decided to mask and spray the markings copying from a period colour photograph - but I used the stencil decals and national insignia
Montex masks F-84 set - I just used the USAF & aircraft serial numbers
Alclad finish - various shades
Lots of Tamiya tape!
Not without the usual hiccups though. Self induced of course. The primary one was experimenting with the Vallejo black primer - sold as being super tough - but it wasn't - sprayed nicely - looked great - flaked off with masking. I was on the verge of binning the whole thing, but I'd spent so long on the interior - I ended up buying another whole kit - which I could now only find for £38! B*#%+*#.... Oh well, you live & learn...
---
© Guy Goodwin 2014
This article was published on Tuesday, July 22 2014; Last modified on Friday, August 26 2016