Trumpeter 1/32 F8F Bearcat
By Boyd Waechter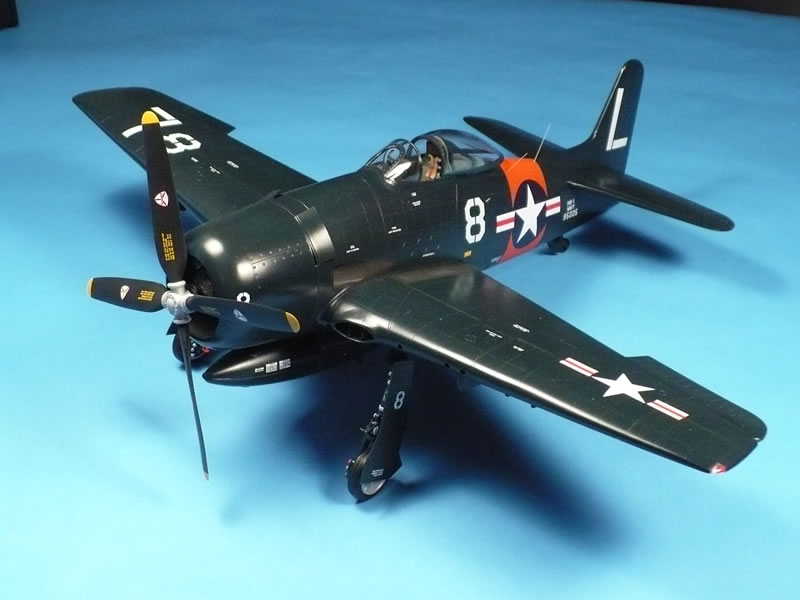 My first impression of this kit was very positive when I saw it in the box. However, that changed quickly as I started working on the parts and correcting many of the mistakes Trumpeter made when cutting its molds. First off, the contour of the cowling from about the 10 a.m. to the 2 o'clock position is wrong and should taper more. I used a couple of sanding sticks and corrected the problem straight away.
As usual, Trumpeter has over engineered this kit and has the builder opening up all kinds of panels on the fuselage and wings. None of the detail under these panels is all that great and so I elected to close everything up, as well as mounting the wings in the down position. The fit of the outer panels to the inner wing sections is pretty good, but I put some plastic tabs across the inside of the seam to give them some strength.
Aftermarket items that I used were Aires wheel well set, SAC white metal landing gear struts, and Eduard WWII USN seat and lap belt set. As built from the box, the model sits about 3/16" too low. The SAC gear corrects this problem by lengthening the fork around the wheel. I also added some hydraulic brake lines from lead wire and CMK hex bolt heads in the appropriate places. As detailed as the engine is, Trumpeter did not include an ignition harness, so I made a complete set of these from very fine lead wire and painted them with Tamiya's Dull Copper paint.
I painted the model with Model Master Dark Sea Blue (gloss) which gave me fits. I just cannot figure this color out, even after using it 5 or 6 times on other models. I gave the model several thin coats wet sanding between each coat to get as smooth a finish as I could. Despite spending about two weeks painting, wet sanding, and polishing, I finally got the satin finish that I wanted. The orange Naval Air Reserve band was painted on with Model Master's international orange, another gloss color that I had to tone done once all of the decals were in place.
As more and more companies compete for our dollars, we will see them try and include more detail and open panels. I would rather they leave everything closed up and reduce the prices for a far less complicated kit. But, with ZM doing what they are doing and everyone else trying to compete with them, I don't think we'll ever go back to the days of the Revell 32nd kits that had 50 parts. Thanks for your interest.
---
Boyd Waechter
Katy, TX.
bfwaechter@aol.com
© Boyd Waechter 2014
This article was published on Friday, August 15 2014; Last modified on Friday, August 15 2014