Trumpeter 1/32 AD-4 Skyraider
By Jeff Herne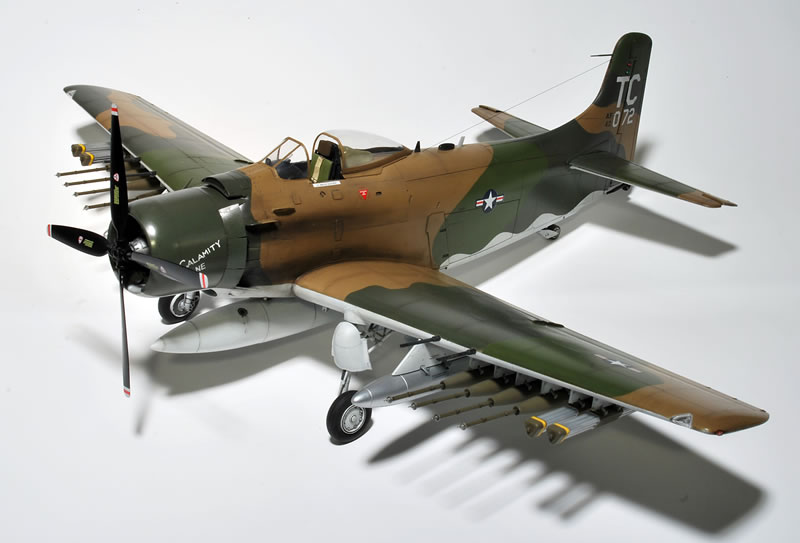 The Skyraider has always been on my short list of wants, so when I had the opportunity to snag one, I didn't wait, nor did I care about the particular version. I probably should have waited and done some research, I suppose.
Although I knew SPADs were used extensively in Vietnam, I knew little about what particular variants were used. So the AD-4 was never used in SEA, in fact, was more of a Korean War era Skyraider, but I couldn't bring myself to paint it overall Navy blue.
Fortunately, Trumpeter provides many of the parts for their later-version Skyraiders in the AD-4 kit, so I used those parts in lieu of the Korean War era components.
I gave some serious thought to adding the armor plating found on the J and H models, but decided against it. Yes, I know it's incorrect, but aside from the hardcore aircraft modelers I pal around with, the rest of the world won't notice.
Assembly was simple, the fuselage went together without issue, although I left out a few of the bulkhead and other interior components that are totally closed up inside the fuselage. I added RB Productions seatbelts but I lost one of the etched buckles and had to replace it with an Eduard fitting.
The only issue I had with the model were the wing-fold seams, they fought me all the way.
I painted the model with Gunze Sangyo paint thinned with Dupont Centari Mid-Temp Acrylic Enamel Reducer. The paint dries a little slower, but levels beautifully with this reducer. In fact, it's improved the quality of my paint work by 30%, easily.
The ordnance was a mix of kit parts and items stolen from my Trumpeter F-105D, including the napalm canisters. I found several photos of armed aircraft carrying unpainted nape containers, so I decided to add these to break up the color.
The markings are fictional, but are done with masks as I had no decals that were suitable.
I invested about 90 hours into this model. I know its faults, but I don't care. I have a SPAD on my shelf it certainly looks the part.
---
© Jeff Herne 2014
This article was published on Wednesday, August 20 2014; Last modified on Wednesday, August 31 2016