Tamiya 1/32 OFMC Spitfire Mk.IX MH434
By Darren McGuinness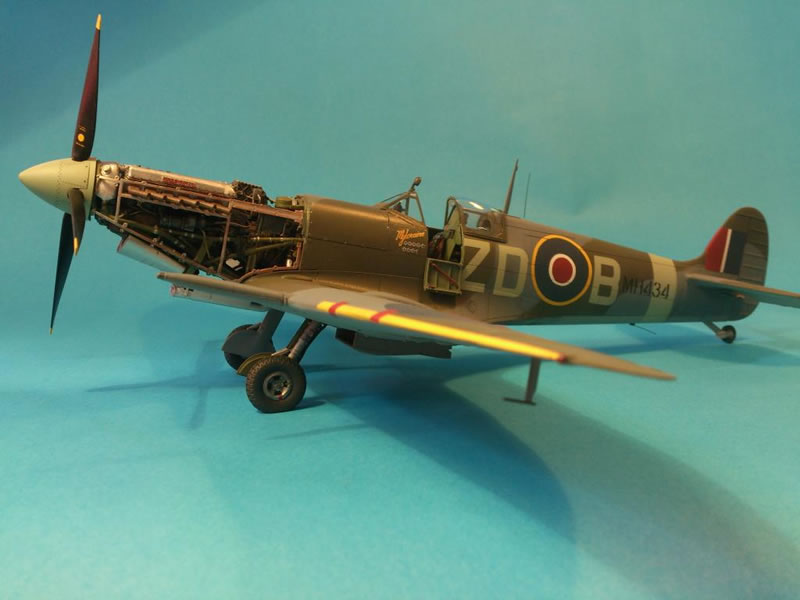 Since as long as I can remember I have had an enduring love for one particular Spitfire. MH434. Built at Castle Bromwich in 1943 she saw combat with 222 Sqn. RAF and retired in March 1945. From there, she served with the Royal Netherlands Air Force and later, the Belgian Air Force.
MH434 returned to England in 1956 and was given a full overhaul and civilian markings. She was then flown purely for pleasure, but made her first silver screen appearance in the film Operation Crossbow...she has since gone on to feature in other film and television work, including the films A Bridge Too Far and Battle of Britain.
In April 1983, MH434 was sold at auction to Ray Hanna, who founded the Old Flying Machine Company based at Duxford. MH434 has been based there ever since and is one of the most famous still airworthy Spitfire's in the world today. Ray and his son Mark were both RAF front line combat pilots who were widely acknowledged as some of the finest pilot's in the world. Both men were lost to us far too soon and now Ray's daughter runs the Old Flying Machine Co. based in Duxford where 434 is still based.
I first saw MH434 being displayed in the '90s when I was still at school. That first time she roared at low level right past my eyes, I felt the pure joy of seeing and hearing such an aircraft, the power and beauty of a Supermarine Spitfire.
Since then I have always wanted to build my own definitive version of this flying legend. When Tamiya released their 1/32 scale Mk.IX, I wanted one but could not afford it's high end price tag. To my absolute delight and surprise, one of my closest friends bought the kit for me and enclosed a set of extra's including a set of decals and paint masks for MH434. I was not keen on using the paint masks, I had never used them before and they looked too tricky for someone of my ability.
When I started this build back in 2012, I was not the modeller I am today. I made a ton of mistakes along the way, but also I learnt many new techniques and most of all I really enjoyed myself with this build. I can honestly say it has been a true labour of love and the best build I have ever turned out.
This build is my personal tribute to Ray and Mark Hanna and I have depicted 434 as she would have been in May 1995. In particular, I was impressed with how 434 looked in the film "A Spitfire's Story" There is a clip of Ray and Mark watching their Spitfire starting up for the first time after her first major overhaul. The sight of 434 in her 222 Sqn. markings with her engine cowls removed and the Rolls Royce Merlin engine glinting in the sun made me decide that is how I want to pose my version of 434.
---
© Darren McGuinness 2014
This article was published on Monday, September 15 2014; Last modified on Monday, September 15 2014