Trumpeter 1/32 A-7E Corsair II "SLUF"
By Ha Pham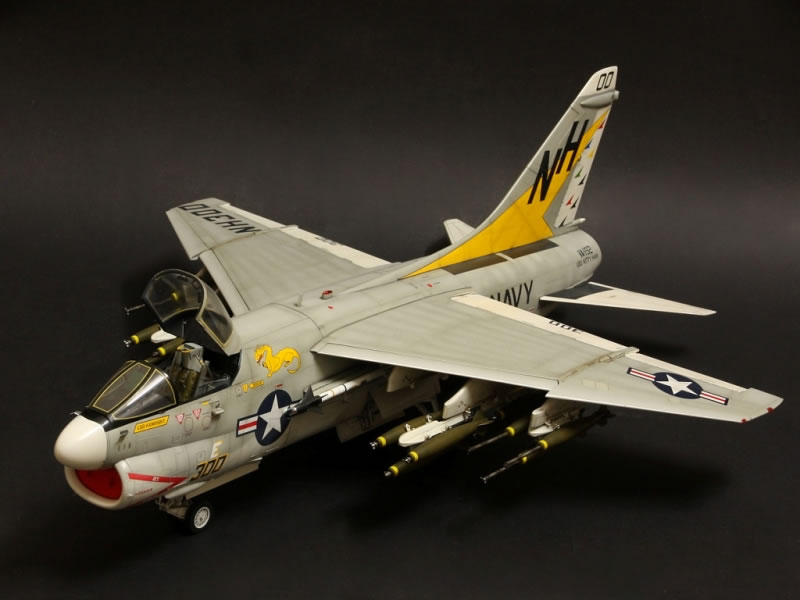 Here's my newest finished model A-7E Corsair II from Trumpeter. I started up the building for around 1 year, mostly out-of-box except the seat that I added some putty AB to look realistic. The cockpit and seat-belts details are good. One thing I don't like is the shape of the fuel tank totally wrong, the shape of intake duct is acceptable.
During the work, I didn't satisfy with the intake duct needing a lot of sanding and putty inside so I scratched the cover for it and the afterburner too, to hide the gap and make the model look different. I'm happy with the result anyway! Sometimes, I have to recess the surface ( the rivets and restrained lines are too low on some places).
Paint is always from Mr. Color lacquer, for clear coat I used Future. The effect is unbelievable for decal applying, at the end I sprayed some Matt varnish from Winsor acrylic artist paint.
The most boring step is making the Mk.82 Snake-eyes bombs. 18 in total but the look that your monster loaded heavily is terrified!
For guys who plan to build this kit, I have some warnings:
According to the instruction, applying decal number "NH 300" of the right wing on the upper side, not down side.
If you choose A-7E for Vietnam war's version , the ejection seat installed is ESCAPAC 1G -2, included in the box without instruction but you can build it easily. Trumpeter guides the late version.
If you choose to make in-flight wing position, you have to reinforce the wingfold joins. Closing engine bays or avionic bays need sanding, adding styrene. Trumpeter is not good for this.
Except those things, building this kit is fun.
---
© Ha Pham 2014
This article was published on Saturday, October 25 2014; Last modified on Saturday, April 16 2016