Azur 1/32 MS406 C1
By Wouter Groenen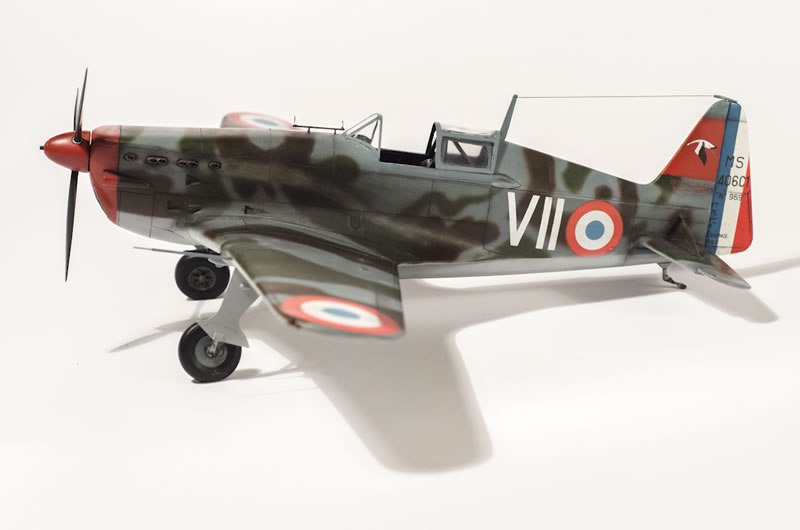 This is my latest project, the Azur MS406 C1. To be honest, the model has been fighting me. Having read other WIP's I was well aware of the problems this kit has. Inspired by Waroff's build I tackled the incorrect shape of the nose (which is to wide and rectangular). This correction, if proper executed will save you some problems with the canopy later (which is to narrow for the fuselage if you build OOB). I'm reasonably satisfied with the nose job, although my scribing leaves a lot to be desired. Leason 1: take your time and start over if not satisfied.
After fitting the cockpit, to the now narrower fuselage, I started to tackle the wings. The transition from wing to fuselage is another point to attend to. There are major gaps and steps which you have to fill and sand. Next I sprayed the entire plane with Mr. Surfacer 1200 and started sanding, scribing, more spraying, sanding, etc, etc. Lesson 2: protect the (build and painted) cockpit. I didn't and ended up with numerous small pieces of sanding dust, which are almost impossible to remove.
Painting was pretty straight forward and done freehand. I'm not really sure if the real one did have the red nose, but I liked it. It breaks the otherwise dull camouflage and balances with the colored tail. Polishing the canopy brought me some more headaches and I was almost at the point to put the entire project to the shelve of doom… Luckily, I acquired a proper polishing compound which saved the day.
With the finish in sight I managed to knock over a bottle of Alclad gunmetal, and of course a big drop hit the model. Being Alclad, it immediately started melting the paint job and plastic !X#$!@). Count to ten, take a deep breath, and back to cleaning, sanding, scribing and painting. Lesson 3: keep your workspace clear.
I will not bore you with details of all the breaking parts after that...actually I will, here's a list:
tail skid twice
visor
undercarriage actuator
antenna top
antenna bottom
seatbelt
The guns and pitot tube are made of brass rod.
Well, all in all, it was another build from which I have learned and in the end I'm happy with it. Next time, I'll try not to be in a hurry!
---
© Wouter Groenen 2014
This article was published on Monday, November 03 2014; Last modified on Monday, November 03 2014