Trumpeter 1/32 A-10A Warthog Converted to an A-10C
By Chuck Sawyer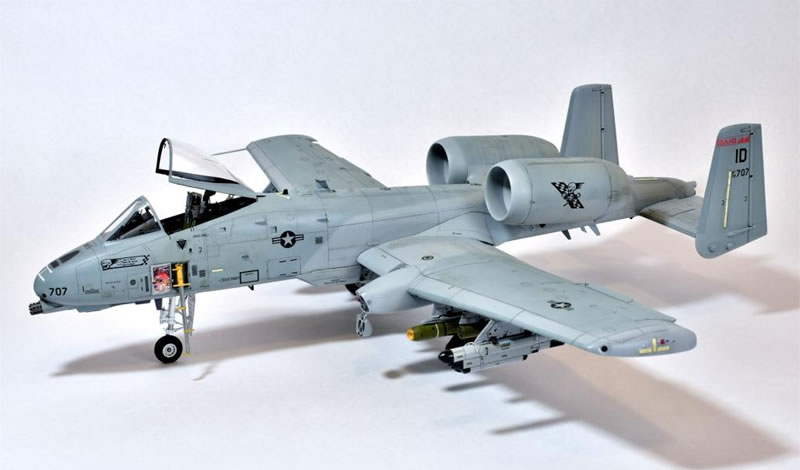 After 20 months and about 600 hours of work, I have another build to show off that you might be interested in. I used the 1/32 Trumpeter A-10A kit (#02214) as a base and then made the necessary changes to create an A-10C fairly closely. This kit, as you may already know, is really, really bad, but if want a big scale Warthog, it's the only game in town! I re-scribed every panel line and re-punched every rivet, then moved, deleted or created many more details along the way. There are so many changes I won't get into them right now, but I did have a lot of help from the after-market community as follows:
Cutting Edge Resin Cockpit, CEC32057. Yes, I know it's an early A-10A version , but it's terrific and nobody makes an A-10C cockpit anyway.
Cutting Edge Exterior Detailing Set, CEC32061
Squadron Vacu-Formed Windscreen & Canopy, SQ9412
Eduard A-10 Interior Photo-Etch Brass, 32061
Eduard Exterior Photo-Etch Brass, 32062
Sierra Hotel Resin Engine Set, 32701
Sierra Hotel Resin Wheel Set "NST", 32327C
Master Brass Gun Tip & Pitot Tube, AM-32-059
Zactomodels Resin AIM-9L/M Missiles (2)
Sierra Hotel Dual-Rail Adapter, 32601
Wolfpack AN/AAQ-28 Litening Pod, WP32014
North Star Models AGM65 Maverick Missiles + LAU-117A Launcher (2), NS 32003
AMS Resin ALQ-119 ECM Pod (Short), 32088
AMS Resin Mk-82 Air Inflatable Retard Bombs, 32080
Czech Master LAU-68D/A Rocket Launcher
Caracal Model Air National Guard A-10C Decals, CD 32006
Astra/Daco A-10 Decals and Stencils, ASD3204
And many, MANY! scratch-Built Items!
---
© Chuck Sawyer 2014
This article was published on Tuesday, November 11 2014; Last modified on Monday, April 11 2016