Aerotech 1/32 DH-88 Comet, MacRoberston Air Race, Charleville QLD 1934
By Eric Galliers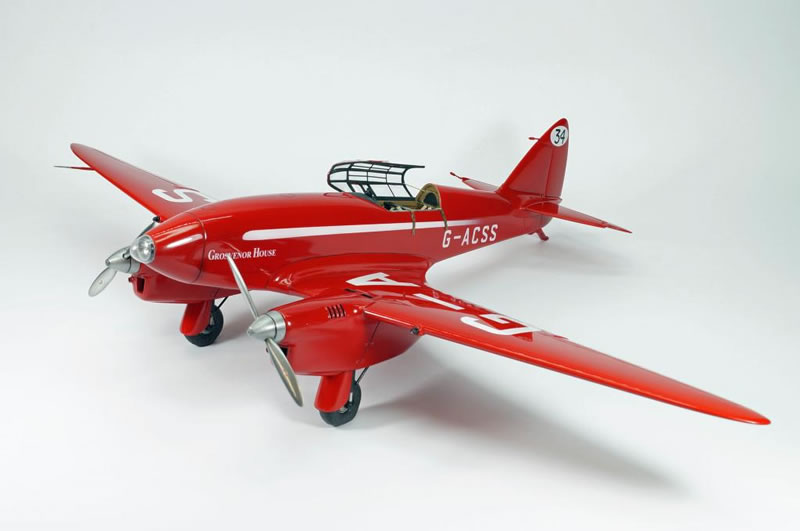 This is my newly completed 1/32 Aerotech De Havilland DH-88 Comet `Grosvener House' as flown by Tom Campbell Black and Charles W.A. Scott in the MacRobertson Air Race, London to Melbourne, 1934. They won the race, winning with an elapsed time of 71 hours. During my research I discovered that one of the mandatory stops was at Charleville, Queensland. I have a personal connection with that aerodrome, having flown in to it many times in a DHC-8 and it was a stop on one of the 4 sectors that formed my check to line as a Captain on that aircraft.
The Kit: Aerotech (Marsh Models) Resin/Photo etch/White Metal.
The kit represents the overall shape of the real aircraft quite well but needed some extra work to bring out the distinctive shapes that make this iconic aircraft into a sleek and beautiful racing machine. A lot of work went into applying the fabric effect to the control surfaces and aft of the rear spar on the wing. Similar efforts went into the construction of the canopy to replace the decal framing of the kit with real framing constructed from 43 parts of plastic card and aluminium foil. I worked on this kit pretty well every other day and it took 1.5 months from start to finish. I felt that the kit needed a new front instrument panel and as such this was scratchbuilt. Here is a list of the mods that I did to the kit.
Modifications:
Reshaped Fin, Nose cone, rear of cowls, fuselage cross section
Modified front of cowl
All fabric effects added with primer
Scratchbuilt front snstrument panel and canopy
Seat cushions from plastic card
Aftermarket:
RB Productions Sutton harnesses
Airscale instruments
Uschi woodgrain decal
Paint and finish:
Tamiya TS-8 Italian red (2 coats straight from the spray can) Followed by 2 coats of TS-13 clear over the kit decals and self masked and sprayed `comet'.
---
The is a build thread for this model in the forums.
© Eric Galliers 2014
This article was published on Monday, December 22 2014; Last modified on Monday, December 22 2014