Monogram 1/32 Phantom Mustang
By Mark Costello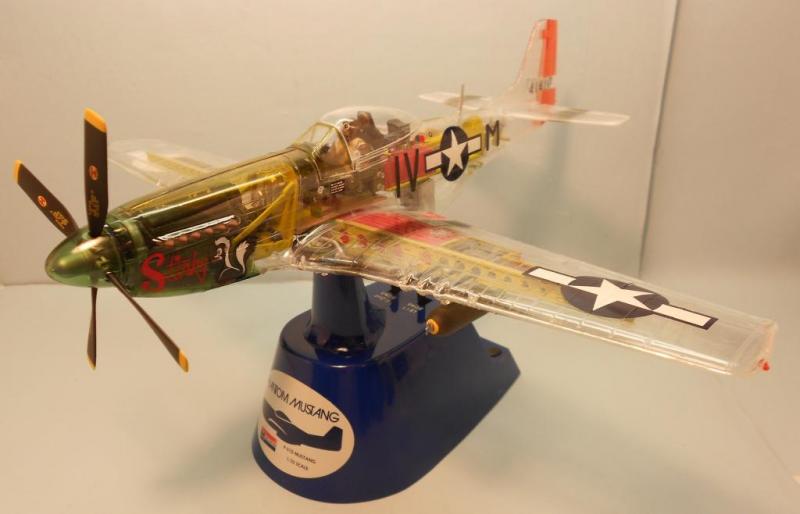 I decided it was finally time to dig this out of the closet and finish it up. I had originally started it back in 1995 when it was re-released for the 50th Anniversary of Monogram Models. I eventually put it away partially built and dug it back out around 2004 and worked on it again for a while. Once again, I packed it away in the closet looking at it from time to time, but never finishing it up. Over the holidays this year, I decided it was time to get it done.
The kit was built out of the box, including the poor pilot. There were many broken pieces that needed to be repaired from starting and stopping the kit multiple times, plus sitting in the closet for so long.
I had bought the Aeromaster P-51 Green Nose Mustangs, Part 1: 359th Fighter Group decals when they came out in 2004 specifically for this build. I was going to paint half of the airplane and leave half clear, but never got around to doing it. When I started on it again, I decided to leave it all clear and just paint the colored portions using Tamiya clear colors. I mixed up some clear green with smoke to get the green for the nose. For the OD anti-glare panel, I mixed some clear green, smoke and orange until I got a color that resembled OD. The red for the rudder is just clear red and the recognition bands are smoke. The decals settled down nicely using Micro Set and Micro Sol.
---
© Mark Costello 2015
This article was published on Saturday, January 17 2015; Last modified on Saturday, January 17 2015