Panda 1/35 UH-1N
By Patrick Najmulski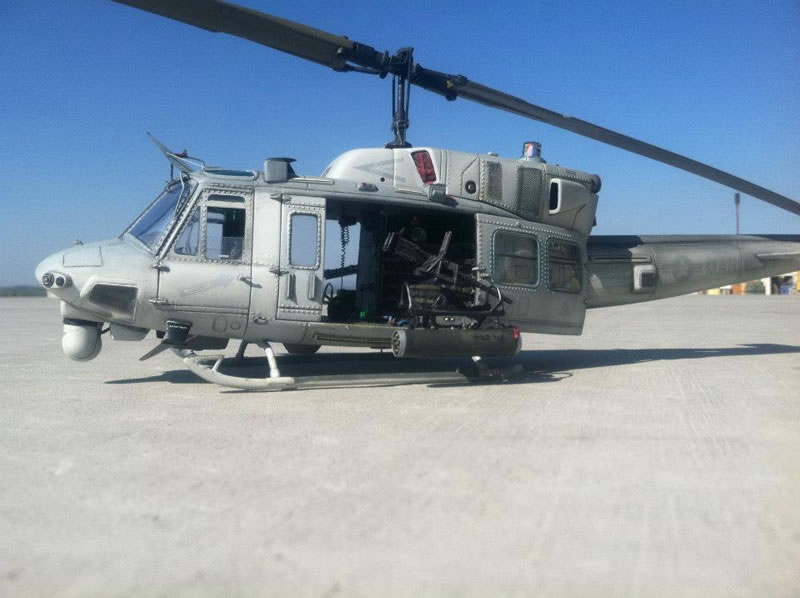 A few years back (and after about a 10 year hiatus from building), I decided to jump back into the hobby. Being a glutton for punishment, I decided to tackle the (horrible) Panda 1/35 UH-1N. I had daily access to the real thing, so coming up with reference material wasn't a problem. Long list of fixes on the aircraft, here goes:
Stole much of the main rotor gearbox, drive shaft, tail rotor and main rotor parts from the MRC UH-1C gunship
Converted it from a "stab bar" Huey to SCAS (no stab bar)
Sanded most of the HUGE rivets off and replaced with Archer Transfer rivets
Used Cobra Company's UH-1N update, as well as part of their weapons set
Scratchbuilt the tail boom mounted chaff/flare dispenser housings (dispensers were stolen from the 1/35 AH-1W)
Scratchbuilt the IDAS mounts (Improved Defensive Armament System) for the rocket pod and crew served weapons. Mainly paperclip wire and plastic sheet.
Rebuilt cabin interior to reflect absence of soundproof lining.
Used Floyd Werner's EXCELLENT auxiliary fuel bladder inside.
Stole many parts from the 1/35 OH-58D Kiowa, including the "disco ball" jammer.
FLIR used from 1/35 MH-60.
Legend Productions M134 minigun to depict the GAU-17.
AMS Resin intake/exhaust covers.
Removed/replaced the mesh engine screens.
Scratchbuilt the 42 degree gearbox cover at the base of the tail, replacing the solid kit part with mesh screen and a scratchbuilt tail rotor drive shaft underneath.
Scratchbuilt wirestrike guides on the windscreen with wire and plastic sheet.
Maketar masks were used to spray most of the markings.
The aircraft depicted (BuNo 159202) was the first Huey I ever crewed, and I depicted her on the day of that flight.
---
© Patrick Najmulski 2015
This article was published on Sunday, January 18 2015; Last modified on Sunday, January 18 2015