Hasegawa 1/32 Fw 190A-8 Mistel 2
By Rick Kranias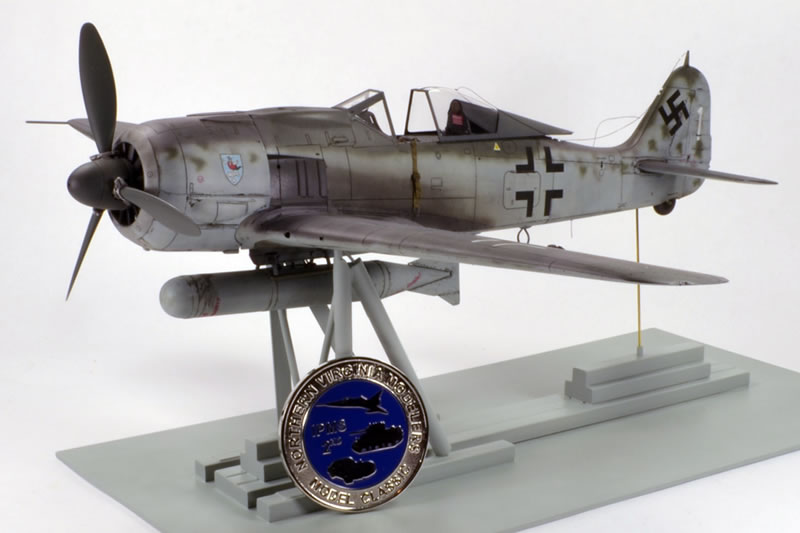 This was a truly enjoyable build with plenty of engineering challenges and build drama. My build thread is in the forums.
Hasegawa's 1/32 Fw 190A-8 modified as Rudi Riedl's Fw 190A-8 Mistel 2. KG200 Tirstrup, Denmark, February 1945.
Eduard photo etch for interior and CMK 600l Luftwaffe drop tank were added. EZ Line for aerial with white glue blobs painted white for resistors. Refering to Forsyth's book Mistel - German Composite Aircraft and Operations, I scratch built the Ju 88 throttle controls and fuel switch on port inside panel. While the center instrument panel got Ju 88 RPM/Oil Pressure Gauges and Auto Pilot control. Ignition wires to the BMW801 have been added albeit almost impossible to see but I know they are there. Decals came from the AIMS Mistel 2 sheet and some spare EagleCals decals.
The KG 200 Mistel unit badge "Staffelwappen" on cowling as created via ink-jet printer and decal paper.
Ju 88G1 or G6 (not sure which one I am doing) Mistel 2 is currently on bench and will get plenty of love this summer. Revell's Ju 88A-1 is the donor kit using AIMS Mistel 2 conversion.
The scratch built display stand utilizes the same mount points which will be on the Ju 88. This will also serve as cradle when not displaying on the Ju 88.
---
© Rick Kranias 2015
This article was published on Sunday, May 03 2015; Last modified on Tuesday, May 30 2017