Trumpeter 1/32 P-40B
By Darren McGuinness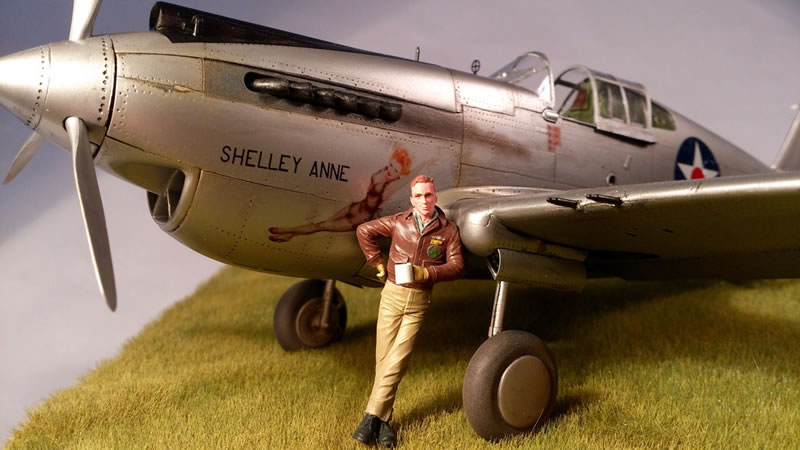 This build started out last year after a visit to Duxford Flying Legends. I saw there a beautiful NMF P-40 and it really captured my imagination, so much so that I wanted to build my own personal P-40 B in a NMF. I'm not one for "What if" builds usually, I leave that sort of thing up to those better than me. So last year this build was started with the 1/32 Trumpeter P-40B, a CMK resin cockpit and some AM Decals.
As this was to be my own flight, I named her after my lovely wife Shelley-Anne, who has been putting up with me for over 21 years now, and more recently helping me through a rough time with an injury I am still being treated for.
This build was on hold for a very long time due to my not having the full use of my right hand, I am now able to get limited use out of it so on a good day I am able to get to the bench and have a go at modelling. I have had great fun with this build, and due to my ham-fisted modelling technique I have made some mistakes along the way. I don't mind, it is nice to finish something and to be happy with it.
The kit itself is OK, but the cockpit provides sits far too low inside the airframe and is not a good fit. The CMK cockpit is far and away a huge improvement and is easy to work with. I painted the model with various metallic shades of Alclad II and weathering was done with my own wash and artists oils.
The figure, the best I could find to resemble me was the 1/32 "Flying Tiger" Pilot from Legend Productions. I have to be honest, he doesn't look a lot like me, but it was the best I could do! So I am using a generous scoop of "Artistic Licence" on this one!
Well, enough blabbering from me! Have a look at the pictures and imagine a sunny day at Duxford's airfield.
---
© Darren McGuinness 2015
This article was published on Friday, July 17 2015; Last modified on Friday, July 17 2015