Trumpeter 1/32 English Electric Lightning F. Mk1 RAF Coltishall 1963
By Eric Galliers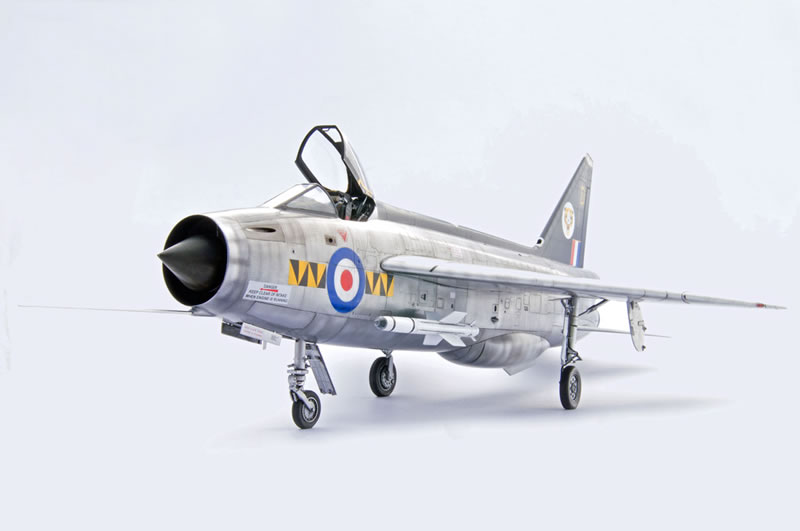 Here is my recently completed Trumpeter Lighting F. Mk1.
Modifications to back date the kit to a Mk 1:
Removal of the wiring conduit running 3/4 of the length of the fuselage
Scratchbuilt Instrument panel
Corrections and additions to the kit:
Reshaping of the fuselage area underneath the windshield
Removal of most of the canopy and windshield frames and then re-modelling them to make them fatter
Reshaping of the spine
Additional 3mm added to the length of the kit in the form of a plug immediately forward of the exhaust pipes
Reshaping of the fuselage in between the exhaust pipes
All NACA vents carved into the fuselage
Reshaped tip of the vertical stabilizer
Reshaped tips of the elevators
Moved wings approx 4mm rearward
Moved tail back approx 3mm
Main undercarriage legs shortened by 5mm and made thicker
Reshaped ventral fuel tank
New ventral fin
Corrected seamless intake
Scratchbuilt APU exhaust
Modified main undercarriage doors
Added brake lines
Added inner canopy frames and details underneath the canopy
Scratchbuilt various vents and scoops
Aftermarket:
Master pitot tube
AMS resin Ejection seat (With modified pull handle)
Aires cockpit (with modified instrument panel and Power levers)
Aires Exhausts
Aires Wheel bays
Mastercasters Wheels
Finish:
Alclad paints for the Natural metal finish
Extradecal markings with masked roundels and serial numbers/letters.
Extradecal stencil data
---
There is a build thread for this model in the forums.
© Eric Galliers 2015
This article was published on Friday, July 24 2015; Last modified on Friday, July 24 2015