Revell 1/32 Spitfire Mk. II - K9998
By Darren McGuinness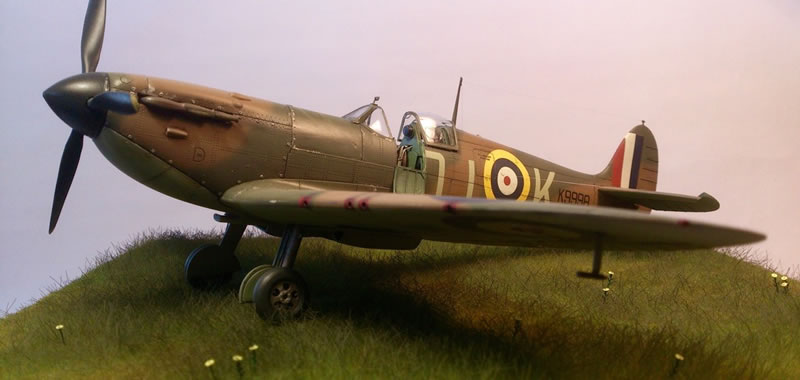 This is one of my tribute builds to salute "The Few" and one man whose story that never fails to touch my heart and inspire me. This is my build of Flying Officer Geoffrey Wellum's Spitfire Mk.Ia, K9998.
For those of you who might not know, Geoffrey Wellum DFC was the youngest fighter pilot in the RAF during the Battle of Britain. He was eighteen years old. He flew all the way through the battle and then onto the siege of Malta in 1942. He published his memoir "First Light" when he was 80 years old and it has widely become known as one of the must-read accounts of the battle.
I have wanted to build Geoff's 92 Sqn Mk.I a for ages! With the 75th anniversary this year, it seems quite appropriate to dust off Revell's 1/32 Spitfire. M.II.
I did a little backdating and a lot of research and I think I have got this one right. We all have our views about this kit, for me it's wonderful. It's a model of a Spitfire! That's all I need!
With the kit, I also used Barracuda resin, Eduard PE and Xtradecal codes to make K9998 as there is no sheet with these markings currently available. I used Mr. Hobby RAF Earth/ RAF Dark Green for upper surfaces and Tamiya Sky for the under surfaces. I enjoyed this build immensely and will certainly build another one of these kits in the future, I think they are great!
I hope you enjoy my tribute to the "The Few". Geoff Wellum once said: "If you remember one of us, then you must remember all of us".
---
© Darren McGuinness 2015
This article was published on Tuesday, September 22 2015; Last modified on Thursday, January 04 2018