Hasegawa 1/32 Me 163 w/ SG500 Jagerfaust Conversion
By Tim Biggers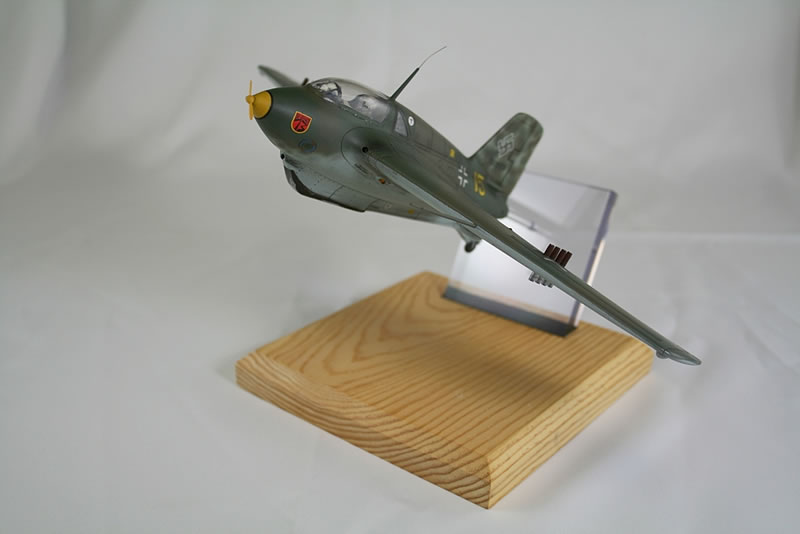 Last Christmas, I was fortunate enough to be drawn for one of Derek Bradshaw's SG500 Jagerfaust conversion kits for the Hasegawa Me 163. I bought the kit shortly thereafter, and it's finally done!
Based on the research Derek supplied with the kit, and some I did on my own, I did my best to approximate, "Die Schwarze 13", a JG400 bird that was found destroyed at Brandis in 1945. While there is no conclusive proof that this bird was equipped was the SG500, I chose to depict it as if it were. The rest of the scheme is based on pretty solid evidence of JG400 markings, using a mix of the top notch Rocketeer Decals sheet and the excellent stencils supplied with the conversion set.
I'll also put in a plug for both Derek's generosity and his skill, as this conversion set is of excellent quality! I don't even know how he made those tiny tubes with such detail. I painted them based on what info I could find on Rob DeBie's great website.
I wanted to do it as an in-flight display, so I had to come up with a fitting base for this little ship, I settled on a square of 1/2" thick clear plex (like you would make a windscreen from) anchored in clearcoated wood base with black RTV. A clear acrylic rod provides the support for the plane, and actually reaches all the way to the cockpit bulkhead for rigidity (there is no engine, only the nozzle). Anyway, here it is!
PS: I forgot to thank Padraic Conway for the pilot figure from a Ju 87 kit!
---
© Tim Biggers 2015
This article was published on Monday, November 09 2015; Last modified on Monday, November 09 2015