1/20 Scratch-built Front End of a B-17G
By Martin Foster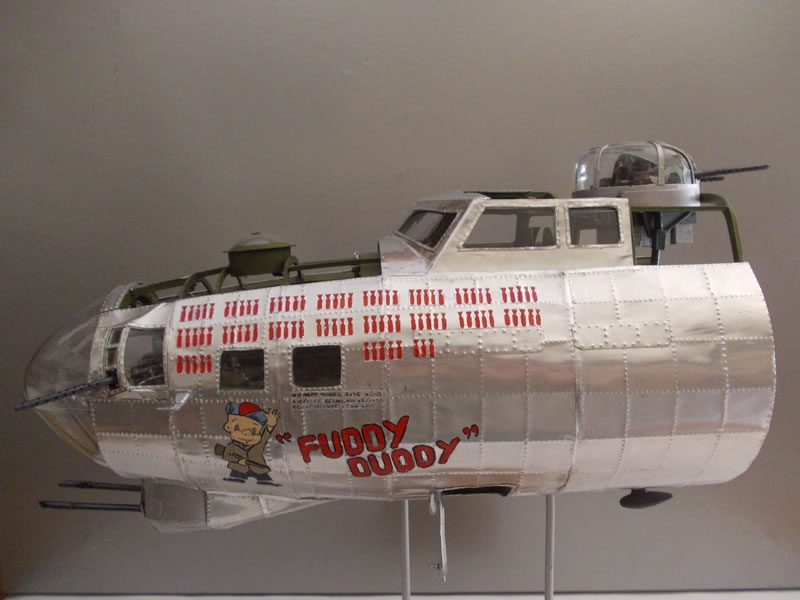 After over 2 years of heartache and over 2.13GB of information collected in photo form...I would like to present to you all my scratch built front end of a B-17G!
Why just the front end I hear you cry? Well I have always been fascinated with the "Fortress" ever since I was a young boy...in particular, what was inside the fuselage! I have been wanting to build a project like this for many years and thought about doing the entire aircraft! But I wasn't sure if I could pull it off...I mean this was going to be in 1:20 scale (a scale I like to scratch build in).
The project would mean scratch building absolutely everything! And so I thought that maybe I should start with just the front end showing the Bombardier/Navigator section...the Cockpit right back to the upper turret before the bomb compartment...and then if it turned out okay...then maybe I would continue down the fuselage!
The materials I used to build this B-17G were balsa wood, hard wood, plastic, wire, paper, the aluminum from Coca Cola cans, and loads of other stuff I found useful in the kitchen waste bin!
It wasn't all plain sailing I have to say...many an hour was wasted re constructing parts that I just couldn't get right but with loads of patience I got there in the end!
For those of you who are interested the entire build with all the blood, sweat and tears can be found in my build thread in the forums.
A little information on the B17G 'Fuddy Duddy" I chose to build (info taken off an Internet site http://www.warbirdregistry.org and http://www.johnweeks.com).
Delivered to USAAF as 44-83563 on April 7th 1945.
Fuddy Duddy was built too late to see action in WWII. She was retired in the mid-'50s, and changed hands a few times until be purchased by Columbia Pictures in 1960. After a short movie career, Fuddy Duddy was converted to air tanker service. She flew as an air tanker until 1986, which she was acquired by the National Warplane Museum and converted back to her warbird look. The museum has continued to restore and improve Fuddy Duddy over the years, and she is one of the finest looking B-17s in the air today.
---
© Martin Foster 2015
This article was published on Wednesday, November 18 2015; Last modified on Wednesday, November 18 2015