Revell 1/32 Hawker Typhoon "Car Door"
By Olivier Barles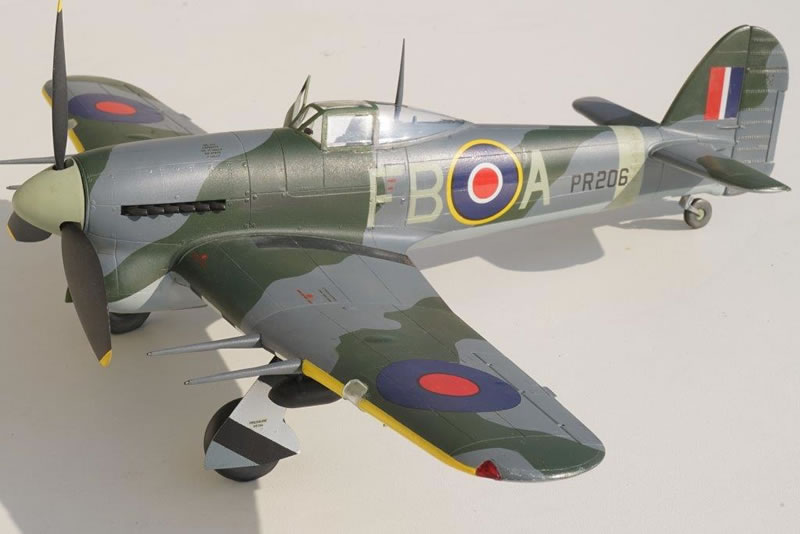 Here is my Revell 1/32 scale Hawker Typhoon "Car Door".
This is a box I purchased in 1988 when I was a young man (!) and that remained in my attic since...
Finally, in July this year I decided to start building it. There was a lot of job to do in attempting to enhance its overall quality. Therefore panel lines had to be erased and replaced by engraved ones while at the same time, I tried to keep as much as I could the original riveting. Then, a few details were added in the cockpit, on the undercarriage and at the huge radiator air intake. I also drilled the engine exhaust pipes, flattened the tyres and cut the control surfaces at the tail to get a more dynamic look.
Main issue all along was the accuracy of the parts fitting when I assembled them. So, putty has been sort of "widely used"... Nevertheless, when the model holds on its legs, it really looks like a Typhoon as Revell could indeed really catch its complex shape.
Mid-August, my Dad passed away. Even if more interested in flying plane models, we had this common passion that I also share with my brothers. And each time I posted one of my articles to LSP, I sent the link to him so that he could have a look and tell me what he thought about my last build...
So, when I got back to work on this Typhoon one month ago, I decided to pay tribute to my Dad by painting the initial letters of his name as markings.
"FB" are the code letters of the 35th Squadron, an unit that went all through the war equipped with Halifax and Lancaster. But "FB" also stands for "Francis Barles"...
So even though the historical truth is put aside this time, it is my own little way to have him remembered via one of his life passion...
To you Dad...
---
© Olivier Barles 2015
This article was published on Friday, December 04 2015; Last modified on Friday, December 04 2015