Trumpeter 1/32 Messerschmitt Bf 109K-4
By Michael Pattison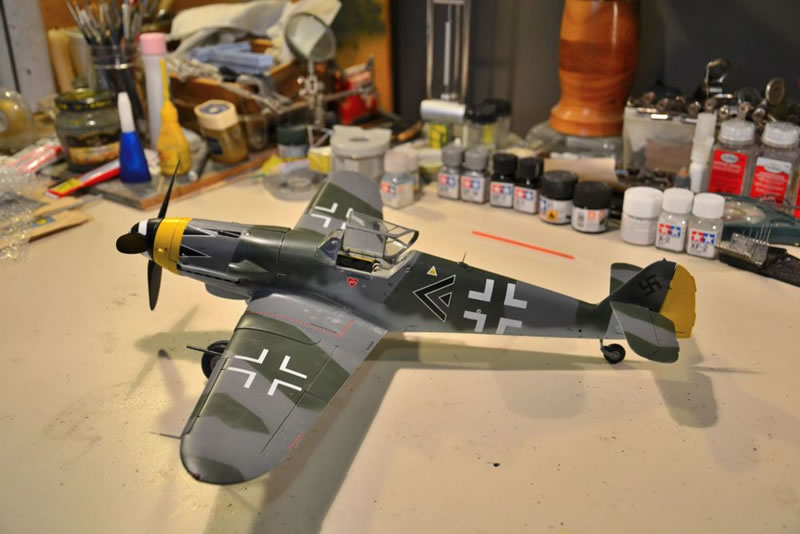 Here are some photos of my latest build, the Trumpeter Messerschmitt Bf 109K-4, that I finished in med December 2015. The kit was painted with Model Master paints, airbrushed over rattle can silver paint, to allow some small amount of weathering. I doubt 109Ks ever got much use, given the situation the Nazis faced at the time, so only mild scratching was simulated. I've only recently started doing any weathering effects, so this is just as well for me. I also added a Verlinden detail set, left over from another Trumpeter 109 (a G-6) built a couple of years ago. I bought both kits years ago, and started building the G-6 immediately, and started building up the engine only to have my then young dog chew that up. At this point both kits, and the Verlinden set, were put away and forgotten. Upon retiring, I decided decided to build the chewed Messerschmitt as a quick build and use this as my first go at airbrushing, and it turned out surprisingly well. Since then, I have finished a Hasegawa P-40M and the Spitfire and Hurricane previously submitted to this site, so this 109K is only my fifth airbrushed plane.
Back to this plane, having had my 109G plane ruined by the dog (it's true – Beagles eat anything!), I decided to use the Verlinden detail set on the 109K you see here. After all, there's not much difference, right? WRONG! Following other builds researched on this site by others while building this, it seems there are many more differences between the G series and the K series than was previously known. But at least I'm not the only one who has fallen into this trap, as Trumpeter has too. What they have in fact provided is a late G series, passed off as a K, so what with Trumpeter's mistakes and the mistakes I've made in the build of this kit, I'm not very happy with the result. Even so, I thought it may be worth submitting, so here it is. The only part I made up was the pilots air hose, made from a piece of broken guitar string provided by my son, who makes guitars. The pilot's armoured head rest was altered with a piece of clear inserted. The final variation was to paint the spiral onto the spinner, rather than use the decal provided in the kit. This was done by painting with Tamiya rattle can white, then masking off and over painting with rattle can black. The yellow was also painted with Tamiya rattle can. Alas, the undercarriage has moved a little after standing it on that, so perhaps I used too much glue when putting these parts in place, despite the model not being stood on it's undercarriage for a few days after gluing.
As to the kit itself, I think the sprung undercarriage legs are pointless, and I still hate their aileron/elevator.rudder attachment method with those silly rods and "hooks". I'm also getting really fed up having to fill in their ejector pin marks too. It's also a real shame that Trumpeter didn't take the time to do a proper K as this could be a great kit. I think it would be better if they'd provided markings for a late G series. These kits are not cheap, so I can only hope that future releases will be better. Maybe Airfix will release a late model 109 to match their Typhoon. I have five other Trumpeter kits in my stash and the way I feel now after building this kit, I won't be buying any more unless it's something I really want, or it gets a good review. There's plenty of new releases in large scale planes these days, so I don't feel the need to spend my hard earned on stuff that frustrates me.
---
© Michael Pattison 2016
This article was published on Wednesday, January 20 2016; Last modified on Wednesday, January 20 2016