Trumpeter 1/32 A-4G Skyhawk
By Eric Galliers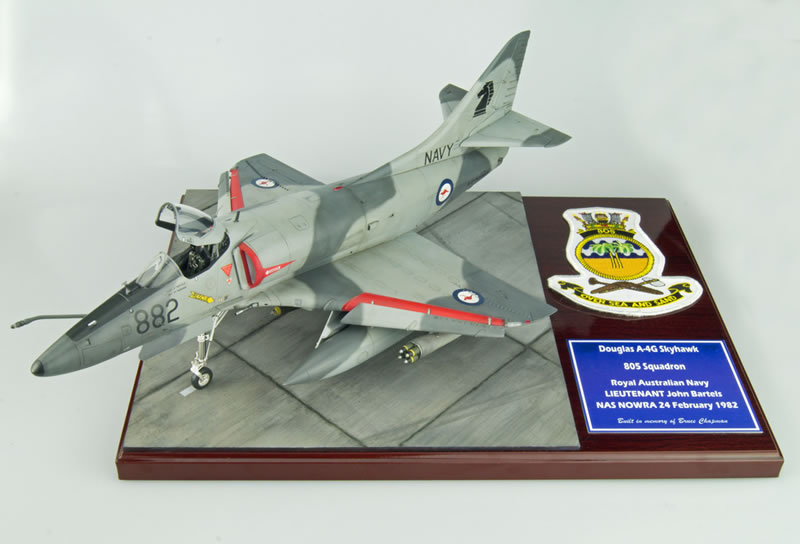 Here is my newly completed Skyhawk of the Royal Australian Navy, 1982.
I built this model as a tribute to my good mate Bruce Chapman who passed away recently. He was a big fan of the Skyhawk and was always talking about how he would have approached the construction of this kit. I have incorporated most of the mods that he suggested (plus a few more!).
I chose to finish this model as one of the aircraft flown by John Bartels during his time in the RAN and in particular during one sortie where he flew a strike mission against a retired ship. I would like to thank John for his time in helping me with the finer points of the Skyhawk in order to depict this model as authentically as possible. During my research into this aircraft, I was fortunate to learn about the stellar aviation career that John has enjoyed and would like to share it with you guys.
John joined the Royal Australian Navy on the 30 July 1973, initially as an observer where he was posted to helicopters and served on Wessex, Sea King and occasionally Iroquois and Kiowa. Of note was the fact that he was on the last Wessex ASW course and the first Sea King course during its introduction to service. He accrued around 1000 hours in the back seat of those types before being accepted onto 109 RAAF/RAN pilots course at RAAF East Sale in 1979, learning the ropes on CT4's before transitioning to the Macchi jet trainer at RAAF base Pearce.
After finishing his pilot's course, John was posted to the A-4 Skyhawk until its retirement where he then flew CT4 aircraft as an instructor teaching Ab-initio students at RAAF Pt Cook. During the retirement of the A-4, the Australian government was looking at Harriers as a replacement but this never eventuated, prompting John to seek employment with Qantas. He started with Qantas on the 15 March 1985 followed closely by his resignation from the Navy on the 17 March 1985.
John finished his time as a pilot in the Navy with 1200 or so flying hours in his log book with almost 400 of those on the A4. A memorable moment of his flying in the Navy was on the 24th of February 1982. He was tasked to fly Skyhawk `882'out of Nowra, on a strike against a decommissioned ship about 20 miles to the east of Jervis Bay. The target was an old fuel/oil freighter from Sydney harbour. The ship was able to carry about 500 tons of fuel, and refuelled ships in the harbour. John recalls `Whilst I'd dropped plenty of bombs before that flight, it was the first time I'd fired Zunis. The CO said to fire the first pair 500' high...to which I asked "why". Said I'd find out. Well, when fired they were big, smokey, lots of flame, so you watched them...then remember you're in a 20º dive at about 450 KIAS...pull up.' It was the heaviest load that John had carried flying the Skyhawk and consisted of 2 x 4 shot Zuni rocket pods, 3 MK 82 bombs and two drop tanks.
John is now an A380 captain with Qantas, enjoying a successful civil career flying heavy jets. He joined as Second Officer on the 747 Classic in 1985 and did 4 years in that position. He was then awarded a First Officers position on the Classic before transitioning onto the 747-400 when it was first introduced to service. 18 months later and he qualified as a captain on the 767, flying the jet for 12 years. He then flew the 747-400 as a captain before transitioning to the A380, again in the left seat, in the early days of the aircraft's introduction to Qantas.
Of notable interest, John was the captain of QF30, the 747 that sustained damage during an explosion of an oxygen cylinder in 2008 (https://en.wikipedia.org/wiki/Qantas_Flight_30). Whilst faced with a demanding situation, John managed it to a safe outcome. He mentions of the incident:
`I was pleased that we didn't screw it up, but whilst it turned out to be a bigger handful than we'd ever trained for (multiple problems weren't a thing then), it was something that we'd been prepared well enough for. I'd expect any QF crew to have achieved the same outcome...'
John's A-4 `882' was delivered to RAN November 1967, where it served with VF 805. It was withdrawn from RAN service in June 1983 and placed in storage before being sold to the RNZAF in 1984. The aircraft was upgraded to an A-4K `Kahu' during its service in New Zealand. Unfortunately the aircraft was crashed during an air show practice routine in Australia, sadly killing the pilot.
The Kit
Additions:
AMS resin Seat, intakes and wheels
Fisher Zuni rocket pods
Academy MK-82 bombs
Aires cockpit and wheel wells
Modifications:
Scratchbuilt re-fuelling probe
Modified pylons
Shortened main undercarriage by approx 4 mm
Scratchbuilt launch cable hooks
Various vent pipes added with microtubing
Wiring conduit added to the nose gear
Brake lines and wiring added to the main undercarriage
horizontal stabilizers re-positioned along with the hole between them cut
various sight gauges added to the fuselage
All vortex generators thinned
Finish:
Custom mixes of Gunze Sangyo colours
Self made masks for serials, nose numbers and roundels
ALPS printed pilot's names
---
Here is John after his last Skyhawk ride: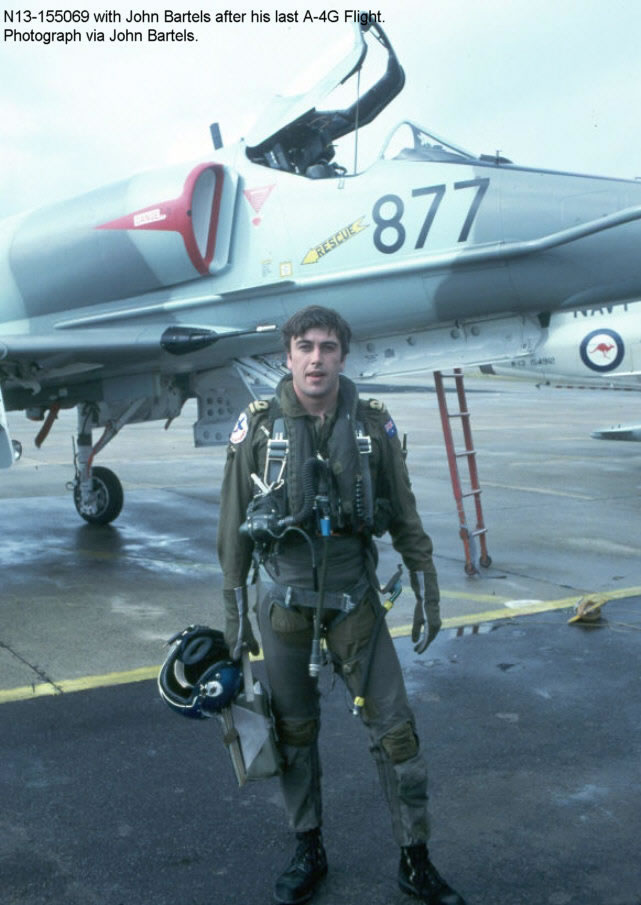 And the real deal: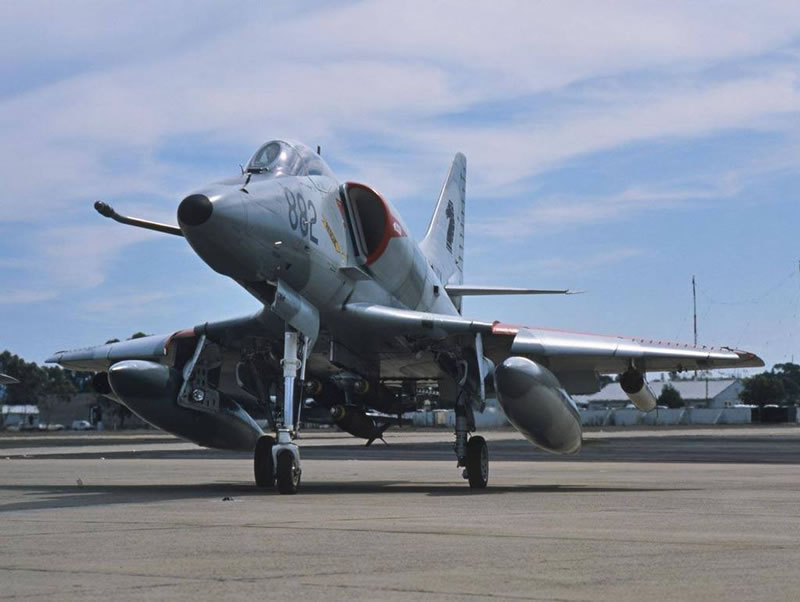 Check out the build thread for this model in the forums.
© Eric Galliers 2016
This article was published on Thursday, February 11 2016; Last modified on Friday, February 10 2017