Trumpeter 1/32 Harrier GR.7
By Terry Scott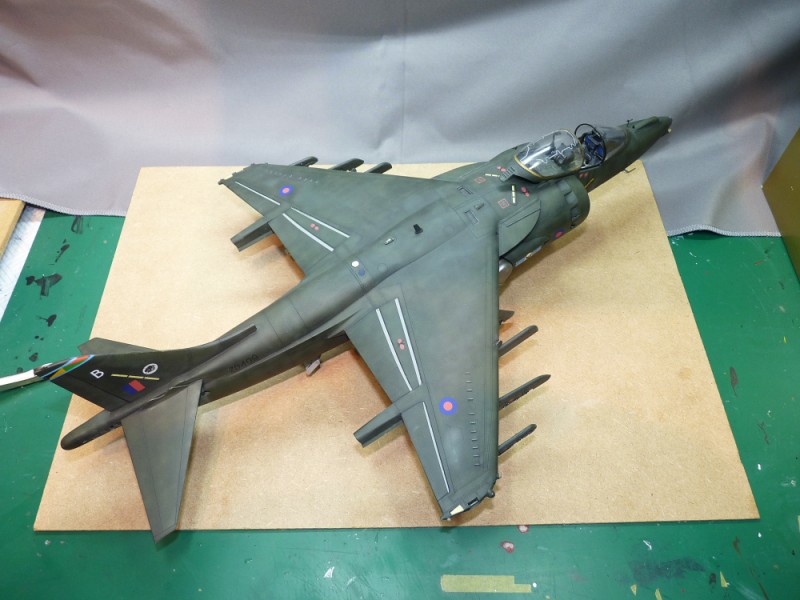 Finally got this one finished. It wasn't a difficult build, it just needed a fair bit of correction work done on it. I've read that Trumpeter just took an AV8-B, made up few different parts, bunged' em in the box and called it a GR.7.
I decided to do a Nato green versh as I hadn't seen one done in this scale before and most people tend to go for a grey version as you at least get a fair decal sheet for one I suppose, although a GR.5 has since appeared while I was building this one, and very nice it is too.
Here's a brief spiel of what I used:
The kit itself obviously
Eduard p/e set in the cockpit
Decals were a mixture of the "model alliance" final Harrier flight (definitely worth getting if anyone fancies doing on of these)
Custom mixed paints, exclusively Mr Color (the old Gunze Sangyo)
Wolfpack bang seat
Here's what I did:
Scratchbuilt aerials, yaw vane, heavily modified upper beacon (it was round not triangular), hand painted "no step" stencils, heavily modified ordnance pylons check out my build thread for details here, scratchbuilt chaff/flare dispenser, scratchbuilt GPS antenna (white disc on top of fuselage), extensively post shaded (awkward 'cos the green is fairly dark) washed in Flory black wash.
A quick note about the yellow arrows on the nose below the cockpit, these were cobbled together from a 1/48 FGR phantom as these had the words "rettung" and "rescue" which the Nato green Harriers had also, rather than just the word rescue. Then also solid yellow, not just the outline.
I've still got to fit the pylon sway braces by the way.
---
© Terry Scott 2016
This article was published on Friday, February 19 2016; Last modified on Friday, February 19 2016