Italeri 1/32 Mirage IIIC SPA93 of the French Air Force
By Karim Bibi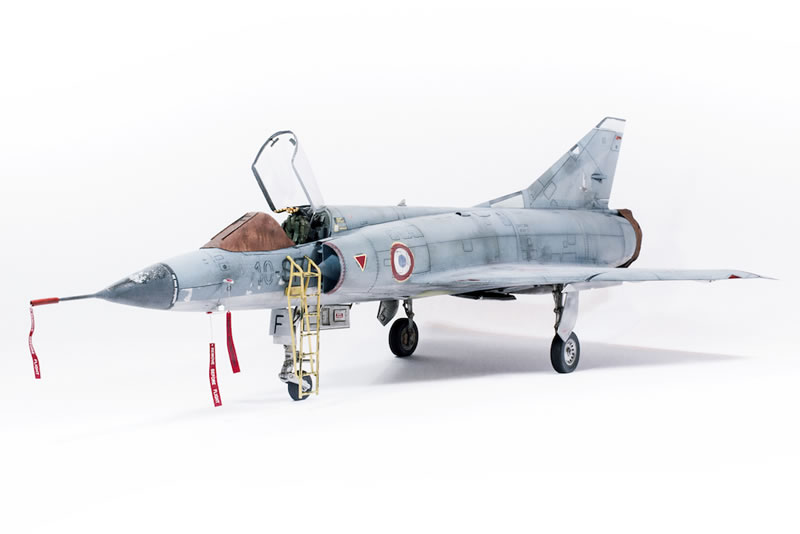 This kit to be honest is not bad, but don't be fooled, this is not a "shake the box and out comes an airplane" type...
I am not going to go over all the niggles and inaccuracies this kit has, rather I will just give some very quick observations. I cannot ascertain those will be found in all the kits as I think mine was out of the initial production batch.
No instrument panel decals whatsoever
Huge seam lines on most of the major assembly joints
Quite an amount of flash on the parts although this is supposed to be completely new molds
Received my kit with a cracked front windshield. Clean crack, two separate pieces. Decided to attempt unsuccessful repair rather than scavenge the front windshield from the second same kit I have (which was later given out to a friend that has more modeling time on his hands)
Nose gear landing lights that are not found on the Mirage IIIC
Missing stencil placement in the decal section of the manual. Downloadable from Italeri's website
Errors here and there in the manual
One thing I found unacceptable was the fact that two of the "bigger" stencils in french have incorrect spelling. Printed by Cartograf in Italy. Proof-reading please, it's not that hard guys, not like it's written in Mandarin and you guys have no clue!
Overall I think there's nothing here that a modeler cant overcome, just need to have enough time and patience to see it through!
Through Nicolas's research on the actual airframe I built this is what he has discovered (my rough translation from our French emails, to English!).
The specific Mirage I built is part of SPA93 squadron, and it is a squadron that has been formed during WW1. SPA name was given back then because the squadron used to fly Spads. My specific airframe , number 50, has gone through a couple of designations which were 2-LE,13-PP,13-QP,2-EO,2-LL,10-RH,5-NC,10-SF, 10-LD of which there is a linked photo...
Concerning the additions, aftermarkets and mods I have done to the kit:
Deleted the nosegear landing lights
Rescribed major parts of the wings and fuselage where the assemblies join up
Moved the scoops on the top part of the fuselage forward and added blanking plates made of sheet styrene
Used Harold's (AMS Resin) MB resin seat (although I am not sure it is correct for the specific airframe it sure looks like two pull handles)
Used styrene sheets and brass rods here and there as necessary
Airscale instrument panel decals
Eduard remove before flight tags
Tissue and white glue for the cockpit tarp and engine cover
Paints were Tamiya and GSI acrylics (own mix using eyeballing and the help of iModelKit app on iPhone for the ratios), metallics were GSI's Mr Metal buffables for the underside...
Weathering was achieved using the salt technique, some fading of the acrylic paint using lacquer thinner, chipping using the hairspray method, Flory Models clay washes, enamel washes, oils for fading and streaking, and aquarel colour pencils for some of the chipping.
The kit has no decals except for the stencils. Everything else (including my approximation of the flying goose) has been painted on using some luck and home made stencils on my Silhouette Cameo cutter.
Build Photos
---
Finished Photos
---
© Karim Bibi 2016
This article was published on Thursday, February 25 2016; Last modified on Thursday, February 25 2016