Tamiya 1/32 F-4G 69-0291 90th TFS 3rd TFW MiG Killer
By John Smith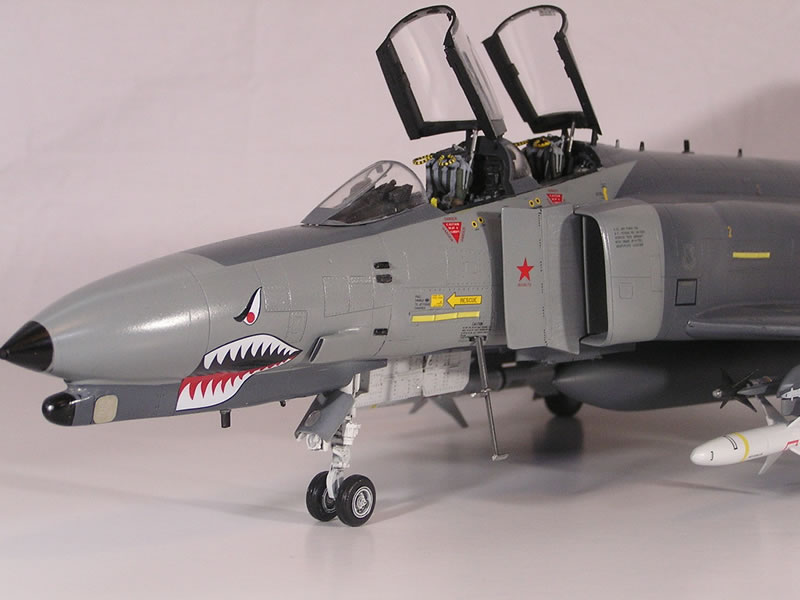 Here is my Weasel, which includes the following:
Tamiya F-4EJ
GT Resin F-4G Super set
GT Resin Intakes
Speed Hunter Graphics SEAD Specialists
Brassin Wheels
Eduard F-4E Int/Ext
Academy Hornet HARMs
AMS Resin AN?ALQ 184
The biggest goof was that for some stupid reason (I was struggling with my P-61 at the time) I glued the UHF antenna way to far aft, and when I discovered it there was no going back. Another thing is I painted on my walkways but didn't want to do the outlines because I had a severe primer malfunction and a lot of paint came off with the tape so that was that. Other than that I really enjoyed it and am so happy to have a F-4G on the shelf. My ALQ 184 is still in the mail so I will take a couple more pics when it's installed. Thanks to Gary and Jake for your help and the great aftermarket stuff your bringing us!
---
© John Smith 2016
This article was published on Sunday, March 13 2016; Last modified on Sunday, March 13 2016