Trumpeter 1/32 Curtiss P-40B Tomahawk IIA
By Christos Papadopoulos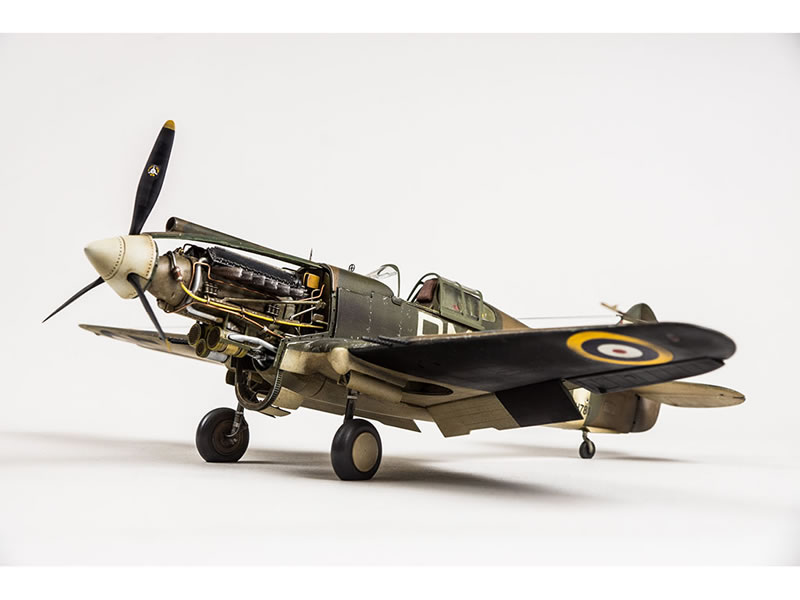 The Curtiss P-40B Tomahawk IIA was one of the first production versions of the famous American fighter who (along with the USAAF) it supplied the RAF squadrons. To P-40B carried two guns half inch at the top of the nose (fired synchronously through the helix) and four 0.303 inch machine guns in the wings.
This type was used by the RAF and the northern-European Front in the period 1941-1942, about one and a half year before being replaced by Mustangs, as the performance was not satisfactory at high altitudes and has mainly been used as an identifier and light bomber. Greater success was the Front of B. Africa, where the hands of competent pilots successfully faced the Bf109E small and medium heights, while absorbed significantly shocks and was effective in light bombing roles & strafing.
The kit Trumpeter in 1/32 scale (code 02 228) represents the version that was active in northern Europe and contains great detail.
Construction
Once equipped with the No. 32553 P 40 interior set, JX 044 express masks of Eduard and RB 1/32 M2 Browning set we started our manufacture of the cockpit area. The detail provided in the kit in conjunction with the minimum of intervention and Eduard set, giving us a very plausible results. We continued with the engine Allison V-1710 which is in our opinion the best in kit form. With the help of photos and internet and the real, added that he needed to get to the construction of a replica. The amazing kit oil cooler further improved with photoetched screens giving the company and adding metal brass struts. From plastics manufacturers along the belt, where more of the supported air brakes of airplane. Opened two ammunition boxes of the left wing, landing legs have been improved with the addition wiring, while the three antennas of the single-channel RF radio system (VHF + UHF) which they brought the Tomahawk, manufactured from thin fishing line.
Painting and Markings
The camouflage of the upper surfaces stained with Lifecolor colors, with the following codes: UA 091 Dark Green and UA 016 Dark Earth. For the lower surfaces used the UA 021 Light Grey and X-1 Black of Tamiya. Wanting to add a third dimension to the two-tone variant we left preshading prior to seems a little more intense at the top of the wings. The interior of the cockpit was painted with H 58 Interior Green of Gunze, the seat of the pilot to the ALC 106 White Aluminium of Alclad. The signals flawlessly applied and sealed with XF 86 Flat Clear of Tamiya. End was wash with raw umber of Winsor Newton and dusted with hagiography shade coffee powders.
---
© Christos Papadopoulos 2016
This article was published on Monday, April 04 2016; Last modified on Monday, April 04 2016