Trumpeter 1/32 MiG-21UM
By Jarda Hajecek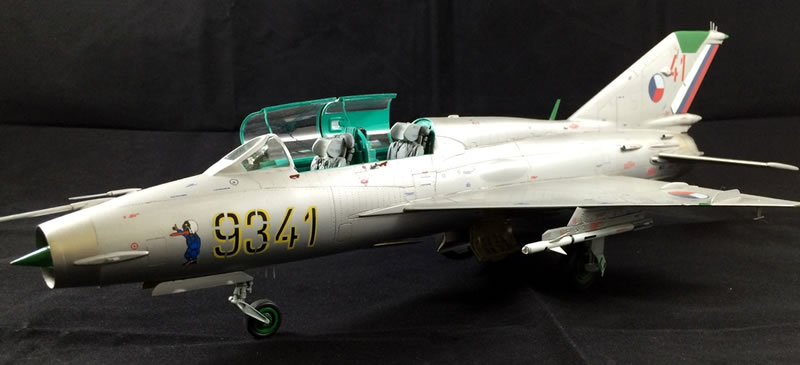 This is the Trumpeter 1/32 Scale MiG-21UM in Czech Air Force colors.
The model is pretty much out of the box. I had the Verlinden set, but its pretty useless if you ask me. The seats are undersized so I used the photo-etched parts only. The other goodies included Quickboost air scoops and pitot and AOA sensor. The rest is as in the box with the ejection seats heavily modified using all kinds of material. Not 100% accurate but a bit better than in the box version. The markings for this CzAF jet are a combination of kit decals (stencils) my own masks (national Insignia, tail art, serial number) and decals (the little guy on the front) that I had cut and printed locally.
The model was "riveted" using RB Productions Rivet-R according to drawings published in the WWP and 4+ publications.
Paints Used: ALCLADII, Gunze H, Vallejo, Future and I used Dark wash from Sira Hobby and my own custom mix of oil paints.
A word of caution for the MiG-21 experts: I did not modify the shape inaccuracies the kit has. I know they are plentiful, but I just did not have the nerves to do the changes. It does look like a MiG-21UM to me. Yes a sinful approach, and yes I did spend quite some time working on the MiG-21 and other CzAF aircraft but this still did not convince me that the model needed to be modified, as it was a question of forever parking the project to the shelf of doom, or just soldier on and finish the kit as is the best way I can.
Photos are a mix of white and black background as I was trying to see what works best, so I apologize for the non-uniformity of the images.
---
© Jarda Hajecek 2016
This article was published on Wednesday, April 06 2016; Last modified on Sunday, October 02 2016