Kitty Hawk Model 1/32 T-28 Trojan
By Brian Leitch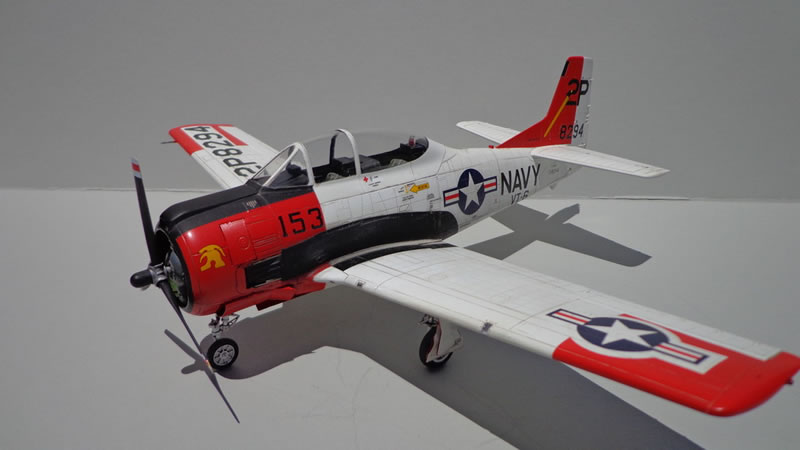 This is my version of the new Kitty Hawk Model (KHM) T-28 Trojan. I have seen several of these built, and all but one have been in this scheme, as I think it is one of the more pretty schemes for the ol' girl.
The kit is without a doubt one of Kitty Hawks best kit, and all the evidence points to KHM getting better and better with each later release of LSP kits.
Some observations on the Kitty Hawk T-28 if I may...
KH did a nice job of fixing the delicate ignition ring, Id LOVE to see that type of engineering continue on all further radial-engine powered KHM kits. It REALLY saves you from having to scratch a new one, with the extra part in the center to help give it strength.
KHM also did a VERY nice job of listening to what most of us want...reduced number of open panels. I would love to see this too continue, as I do think the majority of people buying this that DO want open panels will not have an issue cutting their own. This also gives lend to some great fit all around.
Wheels. The OS2U had weighted wheels if I recall correctly, and I would have loved to have seen that on the T-28. The lack of weighted wheels really puts a quite large and heavy plane "on its tip toes" so-to-speak.
Pylons. The armed version of the T-28 had quite a few of them, and that's understandable, but I think the majority of people building this one love it because it is a trainer, which means no pylons. However, the OS2U did have these filled (but needed to have a place in the instructions where it mentioned punching them out before wing assembly) and let you punch out holes as needed, which in the end was a MUCH better solution than having to punch out discs to fill the pylon holes.
All that said, this is by far and away one of the easiest OOB builds I have done, and other than having to know you need more nose weight, its a pretty straight forward build, that fits REALLY well, and has all the potential in the world for super detailing if one desires.
I tried to keep the weathering so it was no so overbearing but keeping the well used theme going, with enough dirt that could have realistically accumulated on a trainer that saw lots of use/hours.
---
© Brian Leitch 2016
This article was published on Saturday, June 11 2016; Last modified on Saturday, June 11 2016